The Skyscraper Museum is devoted to the study of high-rise building, past, present, and future. The Museum explores tall buildings as objects of design, products of technology, sites of construction, investments in real estate, and places of work and residence. This site will look better in a browser that supports web standards, but it is accessible to any browser or Internet device.
Liberty Tower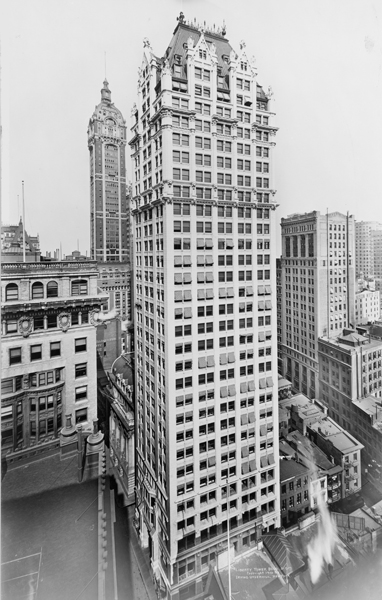 Liberty Tower, 1910, Irving Underhill, Prints and Photographs Division, Library of Congress.
Although developed by a group of real estate investors from St. Louis and designed by a Chicago architect, Henry Ives Cobb, Liberty Tower was a quintessentially New York-type skyscraper. Like the Bankers Trust, it was shoehorned onto a small corner site, just 58 by 82 feet, on Liberty and Nassau streets, three blocks north of Wall Street. Rising 33 stories, 385 feet, it was, according to the developer's promotional brochure, "the tallest building in the world on so small an area of ground."
Completed in 1910, the white terra cotta tower had a French medieval chateau, or gothic character, with a steep pitched roof with three-story gables festooned with crockets and giant bird-like figures. The decoration at the crown and the entrance was created by the Atlantic Terra Cotta Company, the company that made the ornament for both the West Street Building, which had been completed in 1907, and the Woolworth Building, which Cass Gilbert was just beginning to design as Liberty Tower was capturing attention. The precise name of the color of the terra cotta was "Atlantic Dull Cream Glaze," but its effect had an almost hygienic brightness, as a critic in the Architects' and Builders' Magazine in July 1910 noted:
The building rears its lofty height from the chasm-like reach of Liberty Street and seems to more than ever narrow that thoroughfare, despite its clean white walls and the brilliancy of its terra cotta finish. This terra cotta was supplied by the Atlantic Terra Cotta Company. Besides the terra cotta, much white, dull-finished porcelain brick was supplied by the Sayre and Fisher Company which with their impervious surface are equally dirt resisting with the terra cotta and would seem much superior to white marble for such a structure.
The lightness of the façade was also conveyed by the large paired windows-larger and more closely spaced than was common in New York buildings-which made the wall seem thin and relatively weightless. Cobb's design may owe more to Chicago School models such as the Reliance or Fisher Buildings than to West Street or the Times Tower with their emphasis on the visual weight of the wall. The well known 1912 photograph of Liberty Tower by the Alvin Langdon Coburn, titled "The House of a Thousand Windows" communicated his fascination with the modernity within the medieval model.