The Skyscraper Museum is devoted to the study of high-rise building, past, present, and future. The Museum explores tall buildings as objects of design, products of technology, sites of construction, investments in real estate, and places of work and residence. This site will look better in a browser that supports web standards, but it is accessible to any browser or Internet device.
Terracotta Lost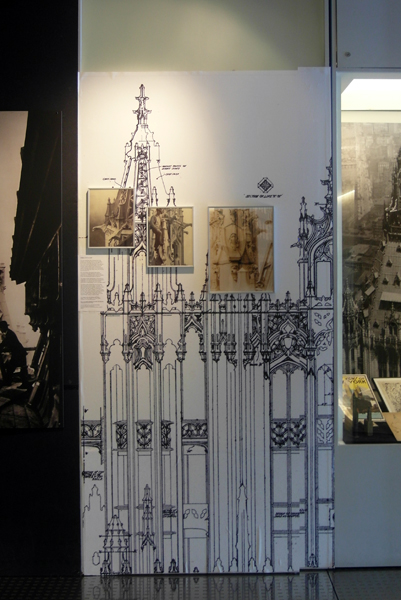 The most significant loss of original terra cotta ornament over the past century was the tourelles- the four little towers that rose from the 49th to 51st story at the corners of the main shaft. These delicate, openwork towers, which the Atlantic Terra Cotta Company called minarets, were constructed as separate structures, each with its own steel skeleton, and were decorated with Gothic tracery and amusing dog-head gargoyles.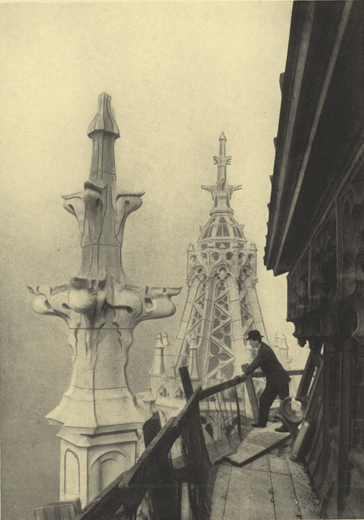 Atlantic Terra Cotta Company, "A 52 Story Façade," 1913 Collection of The Skyscraper Museum
The extraordinary photographs taken during construction on display here show workers and supervisors on scaffolding used to erect the tourelles. As the critic Montgomery Schuyler observed:
"The taking of [these photographs], from temporary scaffoldings at the levels of the details photographed, scaffoldings now removed, was itself a notable achievement in photography. It never can happen again."
The distinct seams between the terra cotta pieces make the facade look like a giant 3-D puzzle. The space between the units eventually allowed for water infiltration, and after decades of weathering, the tourelles were in critical condition. In a 1978 facade restoration, the owners and project architects decided to cover what remained of the tourelles with an aluminum sheath similar in shape and color to the original design, instead of replacing them.