The Skyscraper Museum is devoted to the study of high-rise building, past, present, and future. The Museum explores tall buildings as objects of design, products of technology, sites of construction, investments in real estate, and places of work and residence. This site will look better in a browser that supports web standards, but it is accessible to any browser or Internet device.
PARK ROW BUILDING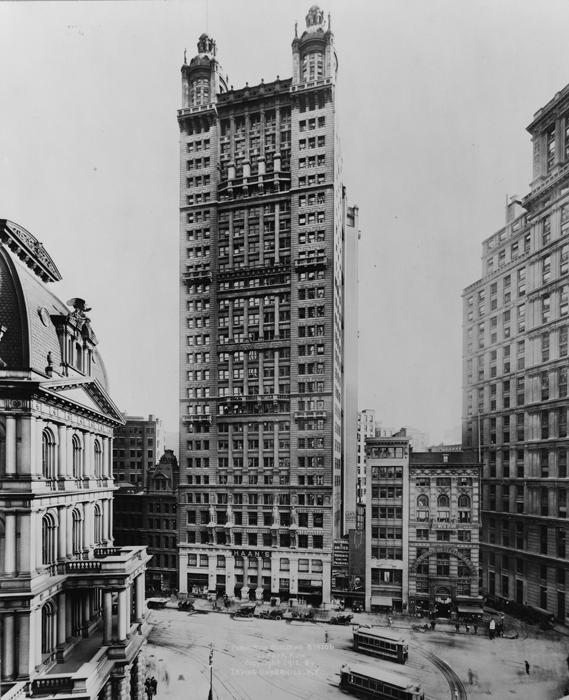 Park Row Building, 21 Park Row, Irving Underhill, c. 1912, Library of Congress.
The 30-story Park Row Building was the tallest office building in the world from its completion in 1899 until the Singer Tower in 1908. It rises 386 feet to its cornice and 391 feet to the top of the twin cupolas, with their domes and lanterns adorned with slender sculpted female figures.
Designed by architect R.H. Robertson and engineer Nathaniel Roberts, the building exploited the newly developed all steel-skeleton technology. The Park Row building's main facade was a tall rectangle divided into horizontal sections marked by decorative string courses, balconies, and columns, and crowned with ornate twin cupolas in copper sheathing and sporting mythic maidens. The design was little loved by contemporary critics who called the towers "insignificant terminations which add nothing," and noted that in their close proximity, the Park Row and St. Paul buildings "stand and swear at each other" across Ann Street.
The Park Row Building, a designated New York City landmark since 1999, stands today facing the enlarged City Hall Park. Commonly known as 15 Park Row, or the J. & R. Building, for the well-known discount electronics store in its commercial space, the early skyscraper has been converted to residential units in its top twenty floors.