The Skyscraper Museum is devoted to the study of high-rise building, past, present, and future. The Museum explores tall buildings as objects of design, products of technology, sites of construction, investments in real estate, and places of work and residence. This site will look better in a browser that supports web standards, but it is accessible to any browser or Internet device.
Location, Location, Location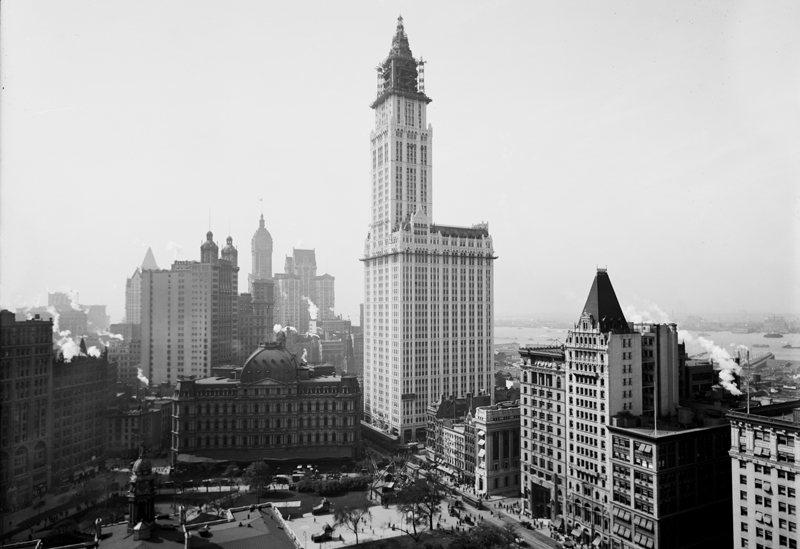 Woolworth Building, New York, Detroit Publshing Co., 1910- 1920, Library of Congress

As the Woolworth Building neared completion in 1912, it commanded the skyline of lower Manhattan. At 792 feet, it significantly surpassed all earlier construction, including the two previous "world's tallest" title-holders visible in this photograph, the 612-foot Singer Tower, completed in 1908, and the turn-of-the century Park Row Building, which, counting its twin cupolas, stretched to 391 feet-barely half the height of Woolworth.

Map of lower Manhattan from rental prospectus, 1912, Collection of Pamela Klurfield
As emphasized on the map to the right, reproduced from the lavish real estate brochure that marketed its offices, the Woolworth Building was advantageously located at the "Civic Center" and downtown's major transportation hub of the IRT subway, several elevated lines, Brooklyn Bridge, and the Hudson & Manhattan Railroad tunnels. City Hall and its surrounding park ensured open space, abundant light, and good views. The hulking 19th-century Post Office and Courthouse did detract from the grandeur of the skyscraper's Broadway entrance, but by 1939, it was demolished, and the enlarged City Hall Park enhanced the skyscraper's visibility.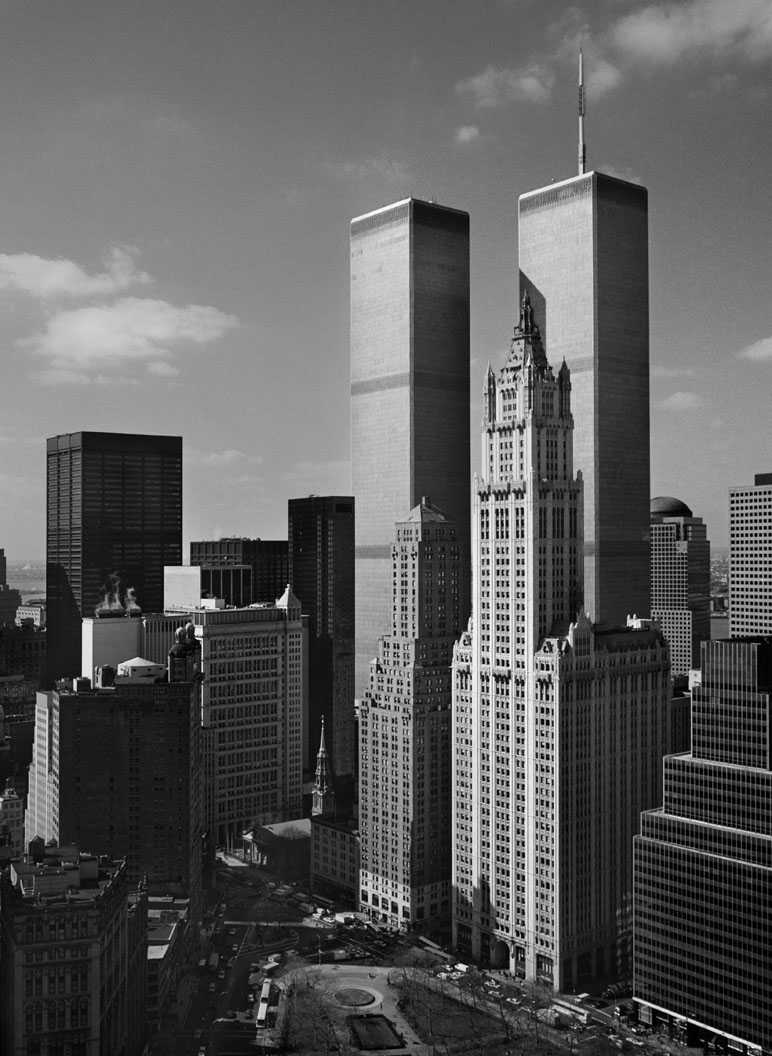 The Woolworth Building's scale is especially striking in its contrast with the neighboring 19th-century structures to the north and the blocks extending west to the Hudson River piers. In terms of sheer volume, Woolworth exceeded all contemporaries in 1913 with its 983,000 sq. ft, of total floor area-although only 563,000 sq. ft. was rentable space, a below-average ratio. In 1915, Woolworth would be far surpassed in rentable area by the Equitable Building at 1.2 million sq. ft. That number, however, pales in comparison to the twin towers of the World Trade Center, the largest skyscrapers in history-each containing 4.5 million sq. ft.. Their extraordinary scale and presence are recalled in the John Bartelstone photograph to the left.