The Skyscraper Museum is devoted to the study of high-rise building, past, present, and future. The Museum explores tall buildings as objects of design, products of technology, sites of construction, investments in real estate, and places of work and residence. This site will look better in a browser that supports web standards, but it is accessible to any browser or Internet device.
EQUITABLE BUILDING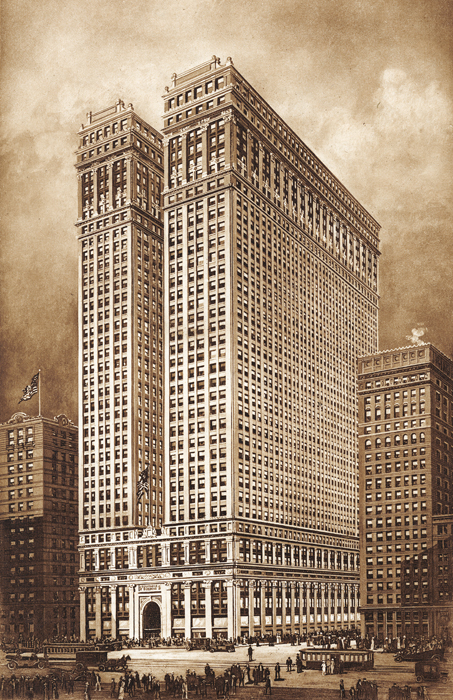 Equitable Building real estate prospectus, 1915. The Skyscraper Museum. Gift of Howard and Vivian Mall.
On completion in 1915, the 542-foot Equitable Building was the fifth tallest skyscraper in New York, and with 1.25 million sq. ft. of rentable space, it was also the world's largest office building in terms of rentable area. Designed by the Chicago firm of Graham, Anderson, Probst & White, the massive flat-topped, classical block replaced the relatively low-rise 19th-century headquarters of the Equitable Life Assurance Company-one of the city's original elevator office buildings that had been added to over the decades and survived until it was destroyed in a spectacular fire in 1912. The giant new Equitable was not a corporate headquarters, but a savvy speculative project.
Occupying an entire city block, its design was a perfect exemplar of the principle of "form follows finance." Many factors shaped the Equitable Building's massing and height, but the major issues were the large, full-block site (approximately 167 x 310 feet) and the efficiency of the elevator service, which determined the "economic height" of the block at 38 stories. Since no office space was to be more than 27 feet from a window, light courts had to be cut into the mass. The architects chose an H-plan, which put light wells on the main and rear facades, affording a straight line of offices on the long sides. This was not a common arrangement in New York, nor was it well received in the press, which viewed the building as greedily oversized.
Indeed, the Equitable Building cast many of its neighbors into perpetual shadow, stealing their daylight and rents, and diminishing their property values. The widespread negative reaction to the Equitable Building's supersize helped to boost the political support necessary to finally, in 1916, pass the city's first zoning law, which regulated the massing of commercial buildings according to a "setback" principle that ensured a measure of light and air at street level.