The Skyscraper Museum is devoted to the study of high-rise building, past, present, and future. The Museum explores tall buildings as objects of design, products of technology, sites of construction, investments in real estate, and places of work and residence. This site will look better in a browser that supports web standards, but it is accessible to any browser or Internet device.
"HOW FAR CAN NEW YORK CLIMB?"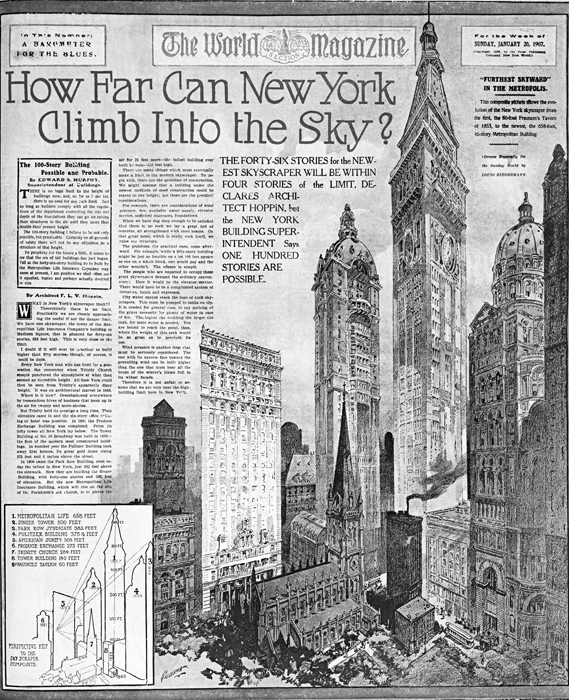 "How Far Can New York Climb into the Sky?" The World Magazine, January 20, 1907. Illustrator, Louis Biedermann.
The popular interest in skyscrapers can be seen in the fantasy drawing published in the Sunday World Magazine on January 20, 1907, which pictures an assembly of the city's tall towers, packed into the space surrounding Trinity Church on lower Broadway at Wall Street. A key in the corner identifies the structures, including the newspaper's own headquarters the Pulitzer Building (at the right with the dome) which was the world's tallest office building from 1890 until the completion of the Park Row Building in 1899.
At the time of the publication, the two tallest buildings pictured-the Singer Tower and Metropolitan Life- were under construction and proposed, respectively. The heights noted in the table were, in fact, shorter than actually built. The accompanying article, signed "Architect F.L.V. Hoppin" (a figure whose reputation has not survived into the 21st century), expressed doubt that "it will ever be practical to build higher than fifty stories."
By contrast, the city's Superintendent of Buildings, Edward S. Murphy averred:
There is no legal limit to the height of buildings now, and so far as I can see, there is no need for any such limit. Just so long as builders comply with all the regulations of the departments controlling the size and depth of the foundations they can go on raising their structures in the air until they more than double their present height.
The 100-story building I believe to be not only possible, but practicable. Certainly on all grounds of safety there will not be any objection to a structure of that height.
To prophesy for the future a little, it seems to me that the era of tall buildings has just begun. Tall as the forty-six-story building to be built by the Metropolitan Life Insurance Company may seem at present, I am positive we shall often see it equalled, beaten and perhaps actually doubled in size.