The Skyscraper Museum is devoted to the study of high-rise building, past, present, and future. The Museum explores tall buildings as objects of design, products of technology, sites of construction, investments in real estate, and places of work and residence. This site will look better in a browser that supports web standards, but it is accessible to any browser or Internet device.
WEST STREET BUILDING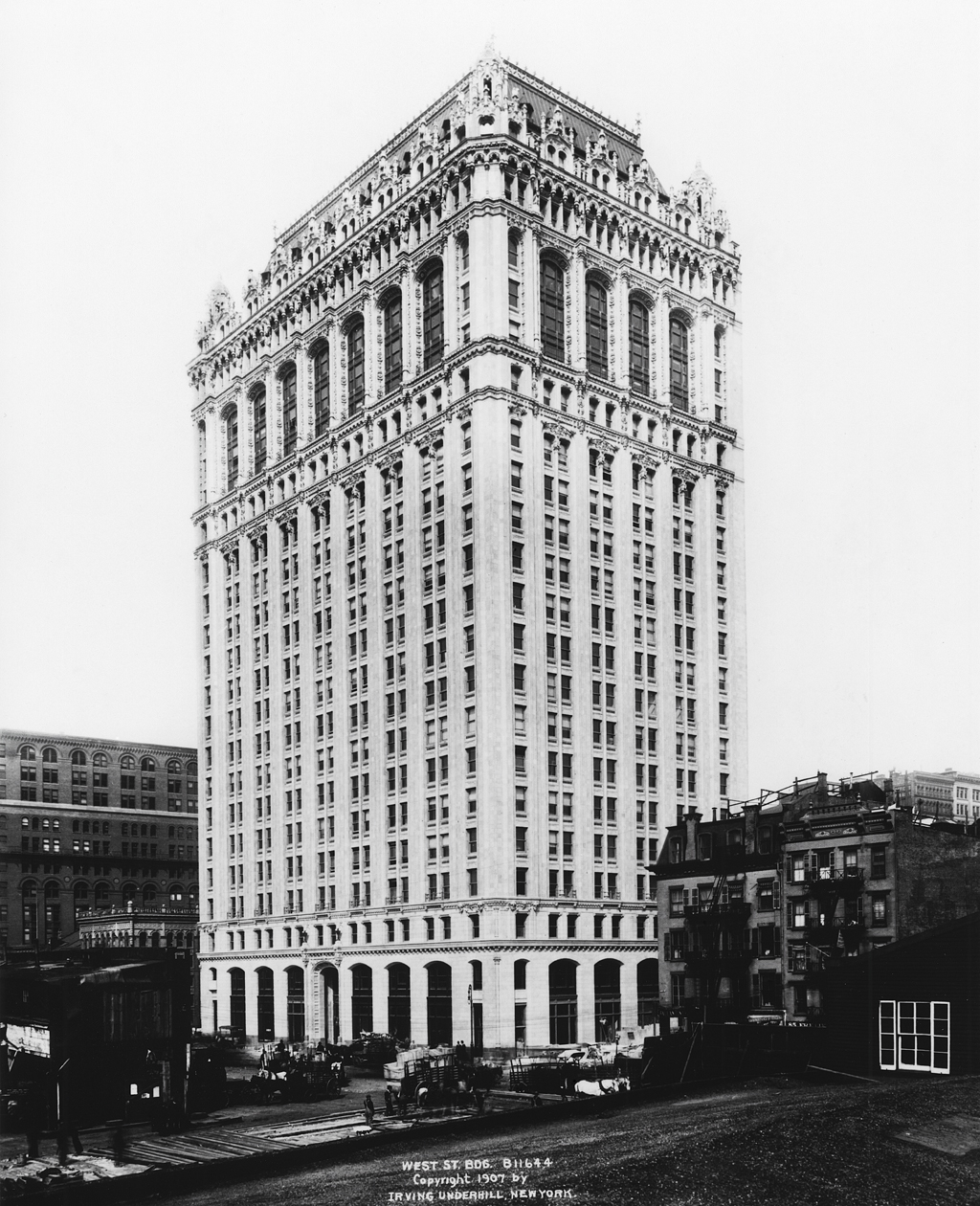 West Street Building, Irving Underhill, c. 1907; Library of Congress
Just as the Woolworth Building presented its main façade to Broadway and City Hall Park and its rear U-shaped light court to the view from the Hudson, so the façade of the West Street Building assertively faced the river and the bustling waterfront and turned its rear-court side to the city. Often called "the little Woolworth Building," Cass Gilbert's 23-story tower stood in dramatic contrast to its 19th-century neighbors, as this photograph illustrates.
Sited more than four blocks west of Broadway and even farther from the density of development around Wall Street, this office building was an extreme outlier. Other than the 1904 Whitehall Building on West Street and Battery Place and its larger addition (1908-1910), both located at the southwestern tip of Manhattan and overlooking the harbor, the West Street Building was the only skyscraper on the Hudson River waterfront until the mid-1920s.
The motivation for this unusual speculative project lay in Gilbert's client, General Howard Carroll, the vice-president of the Starin Transportation Company, who together with real estate partner John Peirce created the West Street Improvement Company to develop the property as an office building for the shipping and transportation industries. Indeed, the tower, which contained 234,000 sq. ft. of rentable space, became known as the Railroad and Iron Exchange Building.
Completed in 1907, three years before the first designs for Woolworth, the West Street Building can be seen as a rehearsal for the great tower. Working with structural engineer Gunvald Aus, Gilbert designed a fully-clad terra cotta tower in the Gothic style, including a 7-story chateauesque turret that was not erected, but would have given the West Street an even more emphatic verticality and presence on the waterfront.
Artists and critics loved the building's romantic silhouette. As painter Edwin H. Blashfield wrote to his friend Gilbert: "I want to write a line to tell you what a splendid impression your West Street Building makes on one, as one comes up the harbor on the way back from the other side of the Atlantic... Indeed I didn't suppose a skyscraper could be so picturesque and handsome."