The Skyscraper Museum is devoted to the study of high-rise building, past, present, and future. The Museum explores tall buildings as objects of design, products of technology, sites of construction, investments in real estate, and places of work and residence. This site will look better in a browser that supports web standards, but it is accessible to any browser or Internet device.
AMERICAN CHICLE COMPANY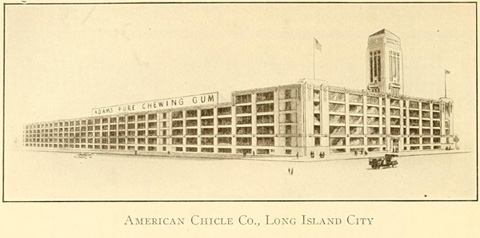 American Chicle Co., Long Island City, Queens Borough, New York City, 1910-1920, Queens Borough Chamber of Commerce. Retrieved from www.archive.org.
The American Chicle Company was the fifth major industry to move into the Degnon Terminal. A six-story flat-slab concrete factory housing 13 acres of floor area, the building occupied a 200-by-600-foot site that comprised about sixty city lots. Through an opening on the rear end of the building at the first story, two train tracks entered a central courtyard for freight loading and unloading of raw chicle, which was brought to the top floor via elevators and automatic conveyors, sprayed to stay moist, then moved by gravity conveyors down to each level for chewing gum production. In a paternalistic gesture to the workers, the owner, Thomas Adams (whose name still identifies the building's watertower), provided worker amenities such as dining rooms, a kitchen, and a rooftop recreation space. Today the building is home to the NYC Department of Design & Construction.