The Skyscraper Museum is devoted to the study of high-rise building, past, present, and future. The Museum explores tall buildings as objects of design, products of technology, sites of construction, investments in real estate, and places of work and residence. This site will look better in a browser that supports web standards, but it is accessible to any browser or Internet device.
STUDEBAKER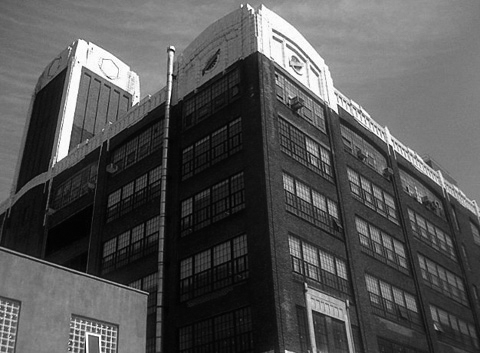 Image courtesy of Harlem Bespoke
Located between 122nd and 135th Streets, on Manhattan's West Side, Manhattanville was a major industrial zone at the beginning of the 20th century. The five-story Studebaker automobile finishing plant featured a concrete structural frame, steel casement windows, large brick piers, and white-glazed terracotta details. Car parts moved down a ramp to the vast open assembly floor spaces supported on concrete columns. Even after Studebaker moved out in the late 1930s the building continued to attract industry; the Borden Milk processing plant located there because of its proximity to the New York Central freight rail line. In the 1950s the Madame Alexander Doll Company leased space in the building where today they continue to design, complete samples, and house their showroom. Other floors in the building are filled with artisans, businesses, and offices for Columbia University.