The Skyscraper Museum is devoted to the study of high-rise building, past, present, and future. The Museum explores tall buildings as objects of design, products of technology, sites of construction, investments in real estate, and places of work and residence. This site will look better in a browser that supports web standards, but it is accessible to any browser or Internet device.
Greenpoint Manufacturing and Design Center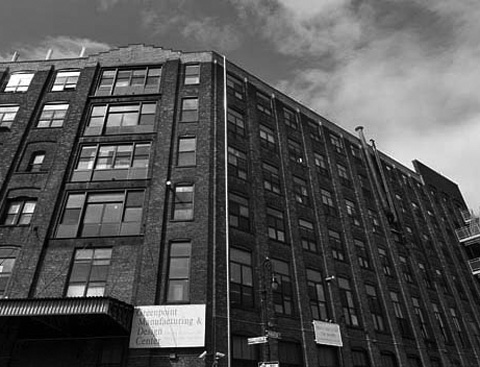 Courtesy of GMDC
Chelsea Fiber Mills, a former textile marine rope factory built in 1868, was redeveloped in 1992 by the non-profit development organization GMDC to encourage and support local manufacturers. The original brick complex built at the confluence of Newtown Creek and the East River manufactured marine rope. Using the various levels of the site, a series of train tracks ran across the lower buildings' rooftops along which workers moved coal from waterfront loading areas to furnaces. By the turn of the 19th century, the factory had expanded to eight buildings housing 400,000 sq ft of industrial space. The mills were lost to the city in tax foreclosure in 1970. In 1988, a group of woodworking and cabinet-making firms moved in, eventually uniting with other neighborhood groups to develop the complex as a center for arts and industry. Under the umbrella of the GMDC Local Development Corporation, they purchased the property in 1993 and hired OCV Architects to do a renovation, completed in 1999. Now housing cabinetry, glass, ceramics, furniture, and fabrics businesses, the GMDC demonstrates that small companies and industrial start-ups can successfully reclaim older factories as flexible manufacturing spaces. To date, GMDC has rehabilitated five multi-story industrial buildings in New York City.