The Skyscraper Museum is devoted to the study of high-rise building, past, present, and future. The Museum explores tall buildings as objects of design, products of technology, sites of construction, investments in real estate, and places of work and residence. This site will look better in a browser that supports web standards, but it is accessible to any browser or Internet device.
ROBERT GAIR COMPANY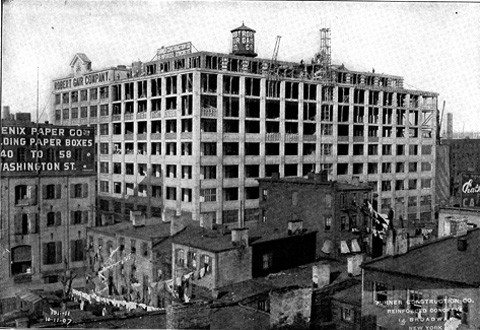 Reinforced Concrete in Factory Construction, The Atlas Portland Cement Company, New York, 1907, Collection of The Skyscraper Museum.
The Robert Gair Company, named for its industrious founder, was established on Reade Street in Manhattan as a printer and paper bag maker in the 1870s. It relocated to the Brooklyn waterfront in the 1880s in an area just north of the new Brooklyn Bridge. Following the accidental discovery of the benefits of cutting and creasing paperboard in one operation, Robert Gair invented the corrugated cardboard box in 1890 and developed a process for its mass production. Providing a cheaper alternative to the custom-made wooden crates used until that time in shipping, the Gair Company became a "paper-box empire" that expanded to many surrounding buildings in an area known today as DUMBO.
Gair erected, from 1887-91, brick buildings in the traditional slow-burning construction type, but from 1904 on built, with Turner Construction, much larger structures in reinforced concrete, among the earliest such large-scale factories in the U.S. Ultimately, the company developed a network of at least ten buildings interconnected by street-grade railways and underground tunnels. Their final structure, completed in 1914, was a 12-story loft building topped with a four-story clock tower. By this point, the Gair Company occupied only a small portion of Building No. 7, renting out the remaining space, and operating primarily as a real estate business. After the company moved its manufacturing operation to Piermont, New York in 1926, its real estate venture remained in the city, advertising pre-war rental rates in "Gairville." Today the neighborhood is a rich mixture of residential, commercial, and light industrial uses.