The Skyscraper Museum is devoted to the study of high-rise building, past, present, and future. The Museum explores tall buildings as objects of design, products of technology, sites of construction, investments in real estate, and places of work and residence. This site will look better in a browser that supports web standards, but it is accessible to any browser or Internet device.
H.W. WILSON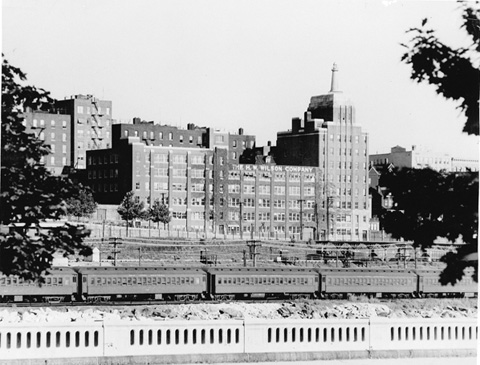 Photograph courtesy of H.W. Wilson Co.
H.W. Wilson Co. is a publisher's headquarters and printing house for numerous indexes and bibliographic tools, including The Reader's Guide and the Book Review Digest. The owner moved the company from Minneapolis to an existing building along the Harlem River in the Bronx in 1917. In 1929, Wilson constructed an adjacent eight-story building with a 30-foot lighthouse on top and a base that resembling a book to symbolize of guidance through the "maze of books and periodicals." The Art Deco brick-faced building has flat pilasters flanking the narrow windows. The high-ceilinged second and third floors housed the printing machinery on reinforced concrete slab floors. Pneumatic tubes were used to send documents from floor to floor. While the offices are still housed in the Bronx, the printing is done in upstate New York.