The Skyscraper Museum is devoted to the study of high-rise building, past, present, and future. The Museum explores tall buildings as objects of design, products of technology, sites of construction, investments in real estate, and places of work and residence. This site will look better in a browser that supports web standards, but it is accessible to any browser or Internet device.
STEINWAY PIANO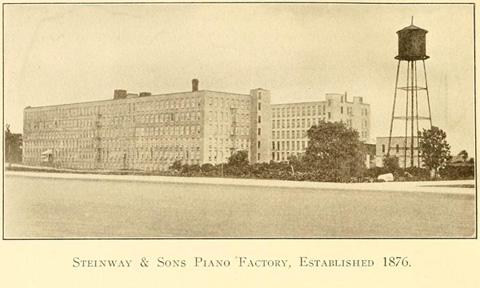 Steinway & Sons Piano Factory, Established 1876. Queens Borough, New York City, 1910-1920, Queens Borough Chamber of Commerce. Retrieved from www.archive.org.
Steinway & Sons, founded in 1853 on Varick Street, moved from its second home at 52nd Street and 4th Avenue to 400 acres in Astoria, Queens in 1873. There they built not only a new factory, but a company town, Steinway Village, complete with sawmill, foundry, post office, parks, worker housing, schools, and streetcar line developed by Henry Steinway, the company's founder.
Originally, the company built a vast complex. Manufacturing took place in two parallel, six-story brick factories with other outbuildings for specific functions, and a central pedimented administration building. Today the main structure, with a 1955 addition, houses the space to produce 1,000 pianos per year, with production following the building's vertical flow from bottom to top. The process begins in the lumber yard with the curing and drying of woods, then shifts to a rim-conditioning room on the second floor, where the bending of the casework is completed. Moving between the second and third floors, the casing becomes the piano shape as mechanical booms lower cast-iron plates to form the rim, after which the keyboard, soundboard, and strings are installed. The piano is polished, and final testing occurs to complete the almost year-long production process.