The Skyscraper Museum is devoted to the study of high-rise building, past, present, and future. The Museum explores tall buildings as objects of design, products of technology, sites of construction, investments in real estate, and places of work and residence. This site will look better in a browser that supports web standards, but it is accessible to any browser or Internet device.
DOMINO SUGAR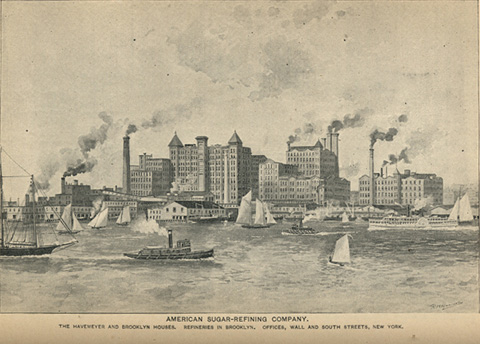 American Sugar-Refining Compay. King's Handbook of New York City, p. 919, 1893. Collection of The Skyscraper Museum.
Sugar refining was one of New York City's leading industries from colonial times, when thick-walled masonry "sugar houses" of five to seven stories were some of the tallest structures in Manhattan. The first of these vertical factories was erected on Wall Street in 1729, and at least four similar sugar houses operated in lower Manhattan through the mid-1830s, when new machinery and methods transformed the production process. In 1884, Havemeyer & Elder constructed the world's largest sugar refinery on the Brooklyn waterfront. The burgeoning industry consolidated in 1897 under a cartel led by the Havemeyer family's Sugar Refineries Company (later renamed the American Sugar Refining Company), at its peak it controlled 98% of the country's sugar production.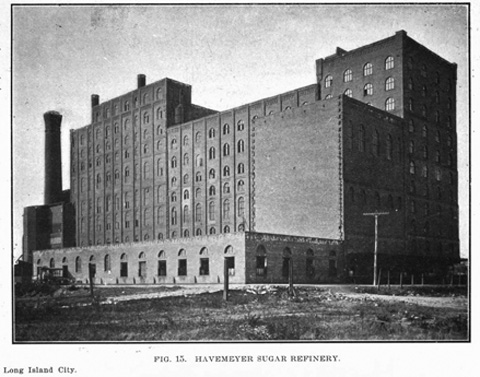 Architectural Record, Vol. 15, February 1904, pg. 129.
The Filter, Pan & Finishing House of Havemeyer & Elder was a three-building complex for filtering and reducing, drying, refining, grading, and packaging sugar-- all carried out in vertical production process. The deep waters of Wallabout Bay and Bushwick Creek allowed direct docking for ships unloading raw sugar and taking on packaged goods as cargo. The refinery continued to evolve with additions to the complex in the 1920s and the name was changed to Domino Sugar Corporation in 1991. With a workforce of 4,500, it had a minimum capacity of 1,200 pounds of sugar a day. Refining ceased in 2009, leaving only a packaging operation until the factory closed in 2004. In 2007, the Landmark Preservation Commission designated the original three-building complex as a New York City landmark, noting that, at 155 feet tall, it was the tallest building on the Brooklyn waterfront, approaching the height of early skyscrapers in lower Manhattan's financial district." Plans are underway by developer CPC Resources for a large-scale residential and commercial complex that will restore the Filter, Pan & Finishing House as a community center by Beyer Blinder & Belle Architects and replace the remainder of the site with new high-rise apartment buildings designed by Rafael Vinoly Architecs.