The Skyscraper Museum is devoted to the study of high-rise building, past, present, and future. The Museum explores tall buildings as objects of design, products of technology, sites of construction, investments in real estate, and places of work and residence. This site will look better in a browser that supports web standards, but it is accessible to any browser or Internet device.
GARMENT DISTRICT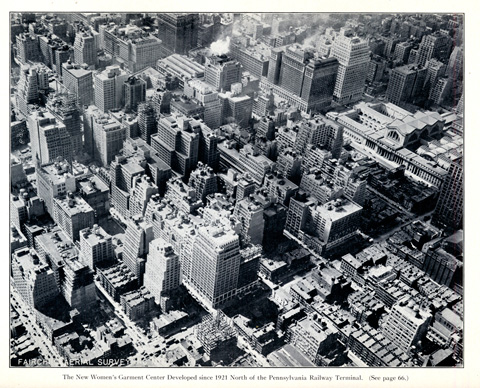 The Garment District from "the clothing and textile industries in New York and its environs, present trends and probable future developments," B.M. Selekman, Henriette R. Walter, W.J. Couper. New York and its Environs, 1925. Courtesy of the Regional Plan Association
Almost one square mile, the area today known as the Garment District-- 25 blocks on the west side of Midtown from 35th to 41st Streets between Sixth and Ninth Avenues-- was once home to the highest concentration of clothing manufacturers in the world. Constructed with astonishing speed in the early 1920s, the district was developed with high-rise loft buildings, typically 12 to 30 stories tall, that took the "setback" forms mandated by the city's 1916 zoning law. Generally, these skyscraper factories were speculatively built as rental buildings that provided well-lit, open-plan work spaces on the upper floors, as well as showrooms on the floors above ground-floor shops.
A major industry in New York City since the early 19th century-- first in textiles and later in ready-to-wear clothing-garment making began in the tenements of the Lower East Side. With the introduction of the sewing machine in the 1850s, which "industrialized" clothing production, then with the ban on manufacturing in residential buildings, factories employing large numbers of largely female workers who migrated up the island, concentrating near the new department stores along Ladies' Mile, especially between Fifth and Sixth Avenues. The presence there of immigrant workers, however, offended the investment interests of wealthy merchants and hoteliers and led to their "Save New York" movement, an initiative of the Fifth Avenue Association, that was instrumental in the passage of the 1916 zoning law and in pushing the garment industry west to its present location.
Through the 1960s, the Garment District's highly skilled manufacturers thrived, but gradually, mass-produced items made with lower skills and cheaper labor moved abroad leaving less than 10,000 people manufacturing there today. While the 1987 Special Garment Center District zoning regulation was created to support industrial uses, real estate interests are converting spaces to commercial uses, often illegally, as current manufacturers try to hold on to their businesses and space. The city is currently reevaluating rezoning issues.