The Skyscraper Museum is devoted to the study of high-rise building, past, present, and future. The Museum explores tall buildings as objects of design, products of technology, sites of construction, investments in real estate, and places of work and residence. This site will look better in a browser that supports web standards, but it is accessible to any browser or Internet device.
R. HOE & COMPANY HEADQUARTERS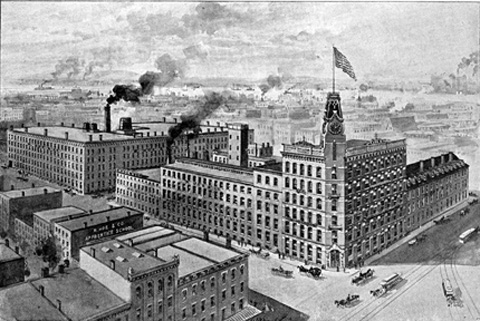 Image, engraving by George Edward Perine, King's Handbook of New York City, 1893. Collection: The Skyscraper Museum
Commanding a two-block parcel on the Lower East Side for more than a century, R. Hoe & Company was renowned for its innovative printing machinery, such as the Lightning Rotary Press (1846) that increased the speed, and decreased the cost, of newspaper production. First established near Wall Street in 1805, the company specialized in saw making, but soon after expanded into printing press machinery. R. Hoe & Co. moved uptown in the 1820s to a block bounded by Grand, Broome, Columbia, and Sheriff Streets. Their first structure, built in 1824, was a foundry; then the company erected a four-story plant at the corner of Broome and Sheriff in 1835. A long five-story addition constructed in 1867 stretched down Sheriff St., and was joined on the entire Grand St. frontage by a six-story brick structure with a corner clock tower that could be seen from City Hall Park.
By the 1900s, the complex employed more than 2,500 workers, including 300 apprentices with their own on-site training facility. The company relocated to the Bronx in 1929, for additional space for their new press design. Demolition of the original complex began that same year. The Amalgamated Dwellings, a model housing cooperative, was erected in its place.