The Skyscraper Museum is devoted to the study of high-rise building, past, present, and future. The Museum explores tall buildings as objects of design, products of technology, sites of construction, investments in real estate, and places of work and residence. This site will look better in a browser that supports web standards, but it is accessible to any browser or Internet device.
NEW YORK OVERVIEW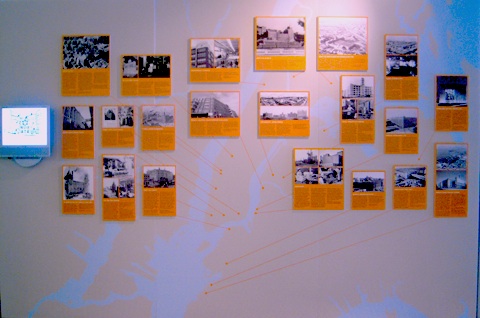 Once a powerhouse of production, as recently as 1960 New York was still the largest manufacturing city in America, with 28% of the region's workers engaged in blue-collar jobs. This was a decline from the height in 1910, when 40.5% were employed in manufacturing. At the turn of the 20th century, New York's factories numbered 12,000, with a workforce of 500,000. Today there are approximately 6,500 manufacturing companies employing 81,000.
New York's historical dominance in manufacturing derived from its extraordinary port with more than 500 miles of waterfront, its vast infrastructure of railroads, and its burgeoning population. The country's largest local market, New York also exported goods to the nation and the world. The 1893 compendium King's Handbook of New York City noted "armies of brewers, myriads of iron workers, cohorts of cigar makers, and great numbers of makers of pianos and furniture, of boots and shoes, of hats and caps, of sugar and molasses." Then, as now, the largest sectors of production were clothing, printing and publishing, and food and beverage.
Until 1916 when the city's first zoning law separated commercial, residential, and industrial uses, factories could be, and were, built anywhere. Most large factories, warehouses, and heavy industries were sited for easy water and rail access, making the working waterfront both polluted and often intensively developed in multi-story buildings. In central Manhattan where land was expensive, high-rise factories, or "lofts," stacked many floors of light manufacturing, concentrated in such areas as today's SoHo, TriBeCa, and LadiesMile. From the 1890s, newspapers such as the New York World and Times wrote, edited, composed, and printed their papers in vertically integrated skyscraper factories. In the 1920s, the Garment District developed more than 120 high-rise buildings on the west side between 35th and 41st streets. Most of these multi-use high-rise lofts were built by real estate developers as investments, not by the small companies that rented the space.
New York City has retooled and reinvented its 21st-century economy in ways that other de-industrialized American cities have not. Today many factory buildings have been converted to residential lofts, galleries, shopping, and other high-end commercial uses. But the renovation of buildings such as the Greenpoint Manufacturing and Design Center in Brooklyn and the American Can Factory demonstrate that even when the original industries are gone, the potential for flexible industrial reuse remains.