The Skyscraper Museum is devoted to the study of high-rise building, past, present, and future. The Museum explores tall buildings as objects of design, products of technology, sites of construction, investments in real estate, and places of work and residence. This site will look better in a browser that supports web standards, but it is accessible to any browser or Internet device.
the '80s condo craze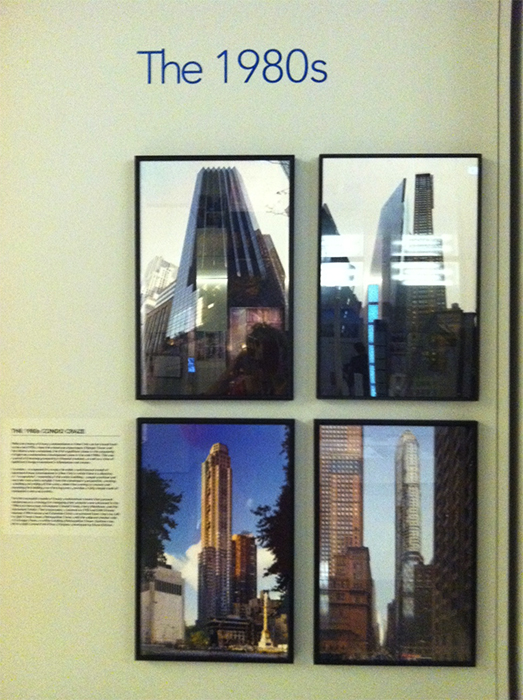 While the history of luxury condominiums in New York can be traced back to the mid-1970s, when the mixed-use skyscrapers Olympic Tower and the Galleria were completed, the first significant phase in the popularity of high-rise condominium development came in the mid-1980s. This was a period of booming prosperity in financial markets, as well as a time of significant foreign investment in Manhattan real estate.
In condos - as opposed to co-ops, the older, much-favored model of apartment-house development in New York in which there is collective, or "co-operative" ownership of the entire building - people purchase and own their own units outright. From the developer's perspective, erecting a building and selling off the units, rather than renting to tenants and operating the building over the long term, provides a fairly simple math of anticipated costs and profits.
The first successful models of luxury condominium towers that pursued slenderness as a strategy for designing their projects were advanced in the 1980s by three major developers: Donald Trump, Harry Macklowe, and the Zeckendorf family. Their skyscrapers, clustered on 57th and 56th Streets between Fifth Avenue and Columbus Circle, are pictured here: (top row, left to right) Trump Tower; Metropolitan Tower, with the adjacent slender slab of Carnegie Tower, an office building; Metropolitan Tower; (bottom row, left to right) Central Park Place; CitySpire, developed by Bruce Eichner.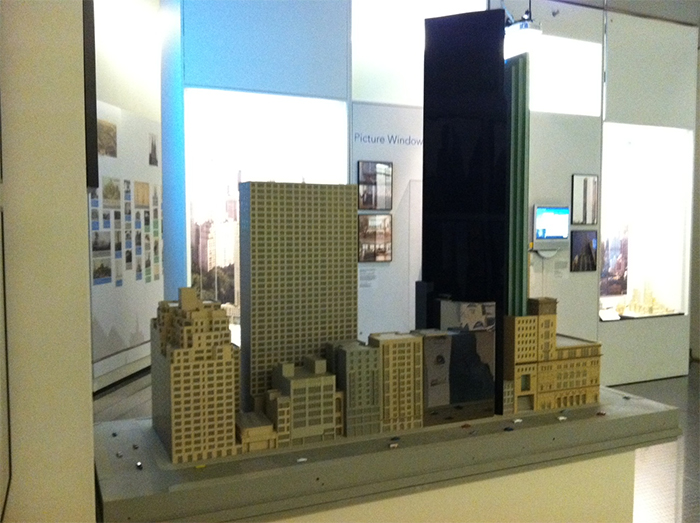 Context Model, c.1986. Created by Awad Architectural Modeling. Courtesy of Macklowe Properties.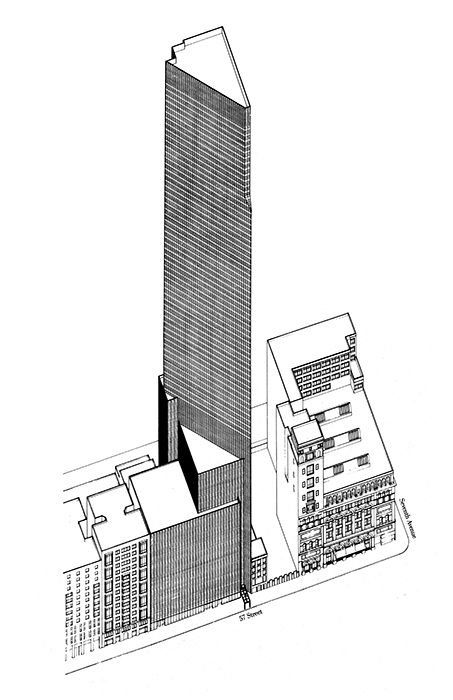 Axonometric Drawing, c.1986. Courtesy of Macklowe Properties.
This context model of the full block, from Sixth to Seventh Avenues, encompassing both historic Carnegie Hall and the sites of two slender skyscrapers, was created by the developer Harry Macklowe and was first used for a proposal for one large, mixed-use building that would have occupied the full site of the two lots and used the air-rights of Carnegie Hall.
After the owners of the Russian Tea Room refused to sell their townhouse, thus dividing the two sites, Macklowe went ahead with the slender black glass Metropolitan Tower, marketing it as luxury condominiums with sweeping views of Central Park. Two years later, Carnegie Tower, an unusually slender office building designed by Cesar Pelli, rose only 25 feet from the Metropolitan Tower.
According to Raul de Armas, who was the designer at SOM for the larger Macklowe project, the postmodern skyscraper in the model was merely a "place holder" and not a serious proposal.