The Skyscraper Museum is devoted to the study of high-rise building, past, present, and future. The Museum explores tall buildings as objects of design, products of technology, sites of construction, investments in real estate, and places of work and residence. This site will look better in a browser that supports web standards, but it is accessible to any browser or Internet device.
as-yet unbuilt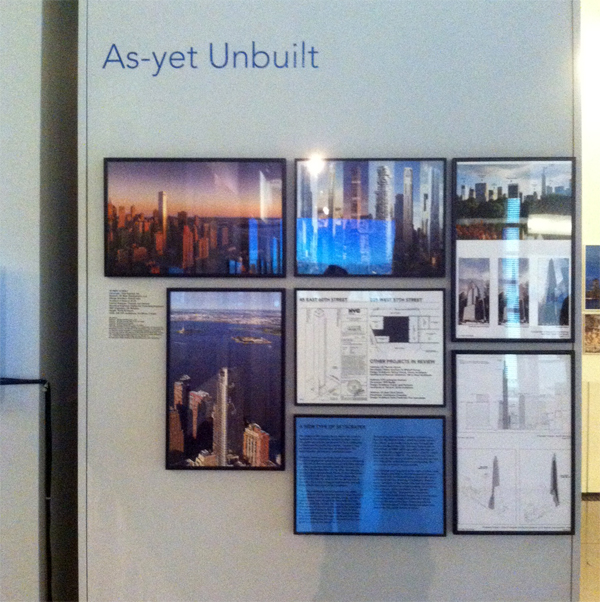 The images in the frames above depict the projects featured in the exhibition, as well as others that at this point can only be mentioned by their addresses or illustrated by public documents. Together they represent a new formal type of skyscraper: the super-slender, ultra-luxury, residential tower.
Of these, three are currently under construction: One57 is topped out and enclosed, but is undergoing interior work; the concrete frame of 432 Park Avenue is rising, as are the concrete slabs 56 Leonard. The others - the feather-thin 111 W. 57th, the shapely, cinched-waist Hudson Yards Tower D, the slim stone-faced shaft of 30 Park Place, and the sleek glass tower of 50 West St. seen in the renderings just to the left - have not yet begun construction and will take at least two years to be completed.
The other buildings that we represent by public documents or just by address have all been discussed in newspapers and on-line articles, blogs, and chat rooms; some have documents filed with the City that are available on line. For various reasons, their developers declined to participate in the exhibition. Best known of these is the project at 53 W 53rd St., generally known as the MoMA Tower, because it is located on a lot that was purchased from the Museum of Modern Art and which will include some gallery space on the lower floors.