The Skyscraper Museum is devoted to the study of high-rise building, past, present, and future. The Museum explores tall buildings as objects of design, products of technology, sites of construction, investments in real estate, and places of work and residence. This site will look better in a browser that supports web standards, but it is accessible to any browser or Internet device.
dubai slenderness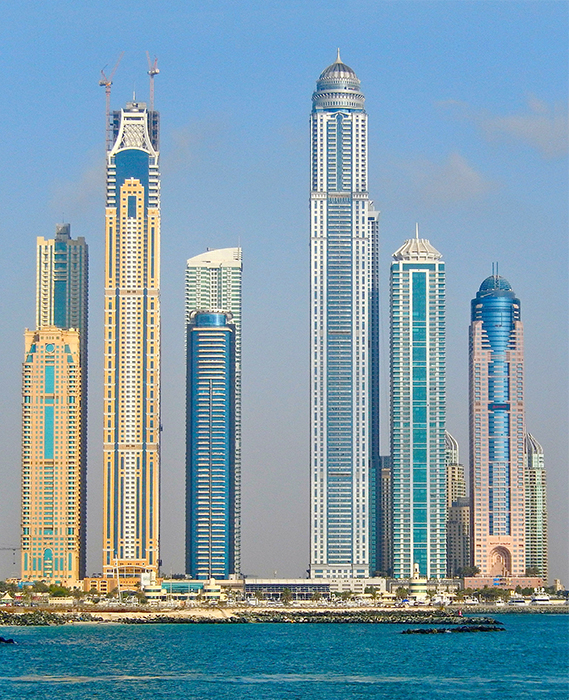 Princess Tower, Sarah Ackerman (Flickr), June 2013
Slenderness is a common feature of the residential towers of Dubai, the Middle East Emirate that is also home to the Burj Khalifa, at 2,717 feet (828 meters), the world's tallest building. Dubai developers often cluster their towers very close together–not for lack of space, but to create an instant urban concentration around an attraction or amenity. In this photograph, eight 80- to-100-story pencil-thin towers crowd the waterfront of Marina City.
The tallest of the group, the Princess Tower, was completed in 2012 and currently holds the title of the world's tallest all-residential building at 1,358 feet (414 meters) – a height that will be surpassed by 432 Park Avenue in New York, which will top out at 1,396 feet.
Both the Princess Tower and the next tallest of the group, the Elite Residence at 1,246 feet tall, were designed by the architect/ engineer Adnan Saffarini. The strategy for profit in this cluster of seaside stilts is to pack many apartments per floor. Described as 107 stories, the Princess Tower contains 763 apartments, and the Elite Residence comprises 697 units in its 91 stories. By contrast, 432 Park Avenue has only around 100 apartments.