The Skyscraper Museum is devoted to the study of high-rise building, past, present, and future. The Museum explores tall buildings as objects of design, products of technology, sites of construction, investments in real estate, and places of work and residence. This site will look better in a browser that supports web standards, but it is accessible to any browser or Internet device.
1 wall street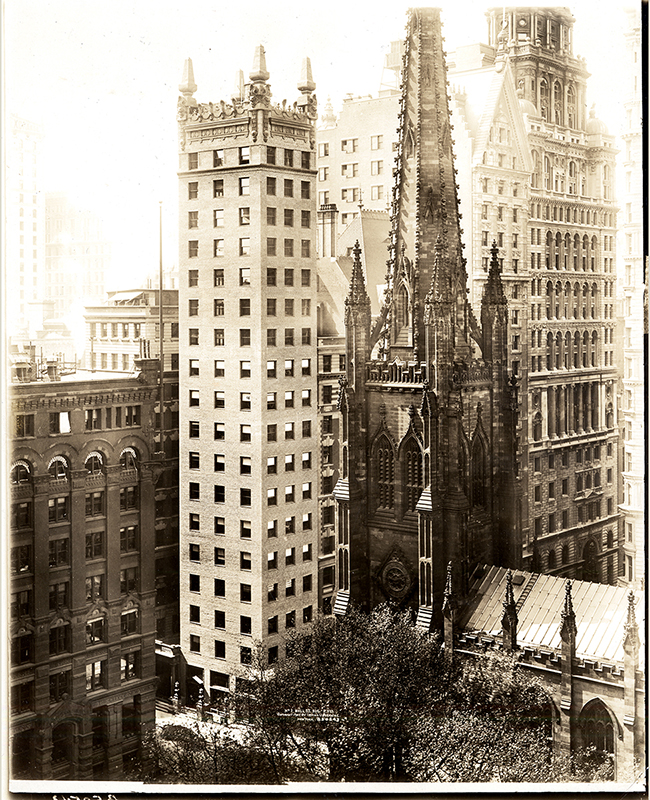 Photograph of 1 Wall Street, 1908 Collection of The Skyscraper Museum
The implied status of the address "1 Wall Street" certainly inspired the 18-story height, if not the architectural quality, of the speculative office tower nicknamed the "Chimney Building." In 1905, the 30' by 40' lot that had been occupied since the early 19th century by a four-story commercial building changed hands for the highest price per square foot ever recorded for Manhattan property ($615 psf). The new owners were business investors from St. Louis, who erected a very plain tower as a rental property. The tower squeezed two offices per floor onto the 1,200 sq. ft. parcel (an area about one third the size of this gallery).
Changes to the New York City Building Code between 1892 and 1901, coupled with the increasing level of experience with curtain walls within the design and construction community made towers such as 1 Wall Street possible. By the time of the Chimney Building, 12-inch walls had become common. Thinner walls created more usable interior space, reduced the weight on the steel frame, and reduced the possibility that the walls might accidentally carry structural load meant for the frame. On the other hand, thinner, weaker walls had less structural capacity to carry the projecting ornamentation of the American Renaissance style that had become popular in the 1890s.  
In 1928, the powerful interests of the Irving Trust Company purchased 1 Wall Street and the neighboring buildings to the corner of New Street. In 1929 construction began on the 50-story Art Deco masterwork designed by Ralph Walker of the architectural firm of Voorhees, Gmelin & Walker, that still graces the corner today.