The Skyscraper Museum is devoted to the study of high-rise building, past, present, and future. The Museum explores tall buildings as objects of design, products of technology, sites of construction, investments in real estate, and places of work and residence. This site will look better in a browser that supports web standards, but it is accessible to any browser or Internet device.
111 West 57th Street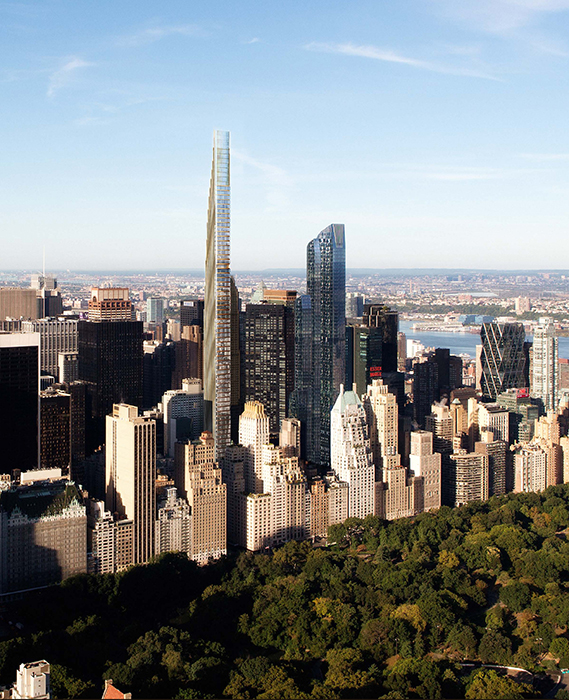 111 West 57th Street. Image: DBOX. Courtesy of SHoP Architects, PC.
With a profile and decorative pattern that looks like a feather quill stuck into an inkwell, the proposed tower at 111 W 57th St. will capture a world record in a category that has previously had little attention: world's most slender building. With a ratio of base-to-height of 1:23, it will far surpass the 1:20 of Hong Kong's Highcliff, whose ten-year tenure with the title illustrates how little competition there has been to erect slender spires. The contrast between the sleek blue-glass curtain wall of the Asian towers' extruded oval and the stepped-back silhouette of 111 W 57th St. with its textured terra-cotta wall that disguises the concrete shear wall structure shows the inventiveness of both the architect SHoP and the engineer, the WSP Group.
In the words of the project's architect, SHoP, "the tower massing accentuates its required setbacks along 57th street with a feathering of multiple, thin steps along the south side façade. Each step corresponds with a layer of intricate terra cotta pilasters cladding the east and west façades. The façade is designed to read at multiple scales and vantage points; the shaping of the terra cotta creates a sweeping play of shadow and light from the city scale, as the texture of the terra cotta panels and inlaid bronze filigree provides richness up close. A minimalist, glass curtain wall along the North façade will take full advantage of the tower's sweeping views of Central Park."
Developer: JDS Development/
Property Markets Group
Architect: SHoP Architects, PC
Structural Engineers: WSP Group
MEP Engineers: JB&B
Façade Engineers: Buro Happold
Height: ± 1300 ft | 396 m | 76 floors