The Skyscraper Museum is devoted to the study of high-rise building, past, present, and future. The Museum explores tall buildings as objects of design, products of technology, sites of construction, investments in real estate, and places of work and residence. This site will look better in a browser that supports web standards, but it is accessible to any browser or Internet device.
sky high prices
There is a wealth of information on this graphic, which was created by Ondel Hylton for The Skyscraper Museum, in collaboration with Carol Willis.
To view and read the detail, use the moving square to zoom in and navigate across the timelines and price balloons.
This chart compiles information on 28 condominium projects constructed from the late 1970s and 1980s–the beginning of the condo era in New York City–through the end of this decade. The buildings included constitute all the projects during this period that share the inseparable characteristics of slenderness and a target luxury market.*
The base map locates all the projects, which are color-coded by construction era and organized by districts. The obvious concentration of recent projects on the 57th St. corridor is thus shown in the context of precedents of the 1980s and 1990s. Each project has an individual timeline that spans phases from site assembly to completion and, where available, a balloon that gives the reported first sale of the highest-priced condo unit. Prices are adjusted to 2013 dollars.
Beginning around 2012, sales of condos in ultra-luxury buildings reached $8,000-$10,000 per sq. ft. and in some cases even higher. These records have set a new standard that developers use to raise the budget for project expenses. The "logic of luxury" is the idea that high development costs for a project are good business strategy if they can produce extraordinary profits.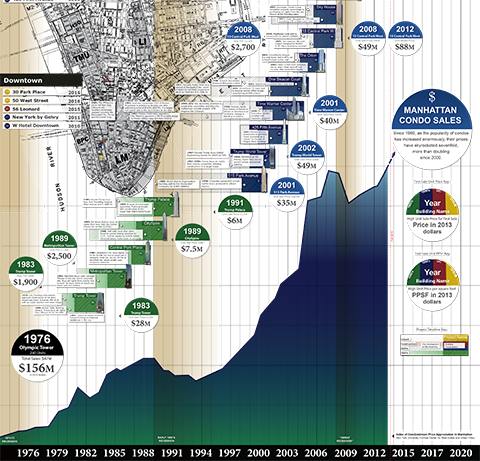 *The only building included that is not officially slender in engineering terms is the pair of structures that comprise 15 Central Park West. This building is so key to establishing the high value of apartments in the entire district of the 57th St. and Central Park South corridor that it could not be omitted from this history.
Each of the buildings has its own timeline, separated into two or more sections indicating the land and air acquisition (in white hatching), design, and construction phases. In the balloon circles, the top date refers the year the building was completed; the only exceptions are yellow circles, meaning "under construction." The bottom of the circle shows the price of the highest-priced unit in 2013 currency.