The Skyscraper Museum is devoted to the study of high-rise building, past, present, and future. The Museum explores tall buildings as objects of design, products of technology, sites of construction, investments in real estate, and places of work and residence. This site will look better in a browser that supports web standards, but it is accessible to any browser or Internet device.
introduction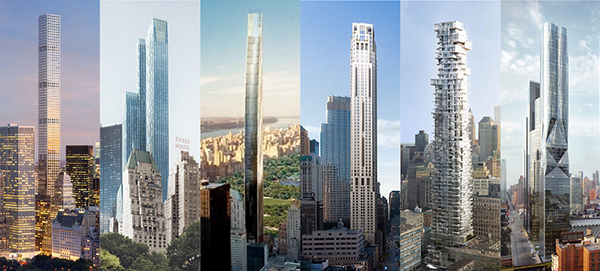 SKY HIGH examines the recent proliferation of super-slim, ultra-luxury residential towers on the rise in Manhattan. These pencil-thin buildings-- all 50 to 90+ stories-- constitute a new type of skyscraper in a city where tall, slender structures have a long history.
Sophisticated engineering and advances in material strengths have made these spindles possible, but it is the excited market for premium Manhattan real estate that is driving both heights and prices skyward. Predicated on Central Park views and other exceptional vistas, these aeries appeal to a distinct clientele to whom developers direct their marketing psychology. The reception has been extraordinary: some penthouses are reported in contract for more than $90 million.
Despite what seems like irrational exuberance, these super-slender towers are shaped by a "logic of luxury." Expensive land and air rights, "starchitect" design fees, special engineering and construction, extra-high ceilings, and abundant amenities all factor in a simple math that stratospheric sale prices justify. SKY HIGH explores this new arena of architecture and elevated standard of living.