The Skyscraper Museum is devoted to the study of high-rise building, past, present, and future. The Museum explores tall buildings as objects of design, products of technology, sites of construction, investments in real estate, and places of work and residence. This site will look better in a browser that supports web standards, but it is accessible to any browser or Internet device.
Gillender Building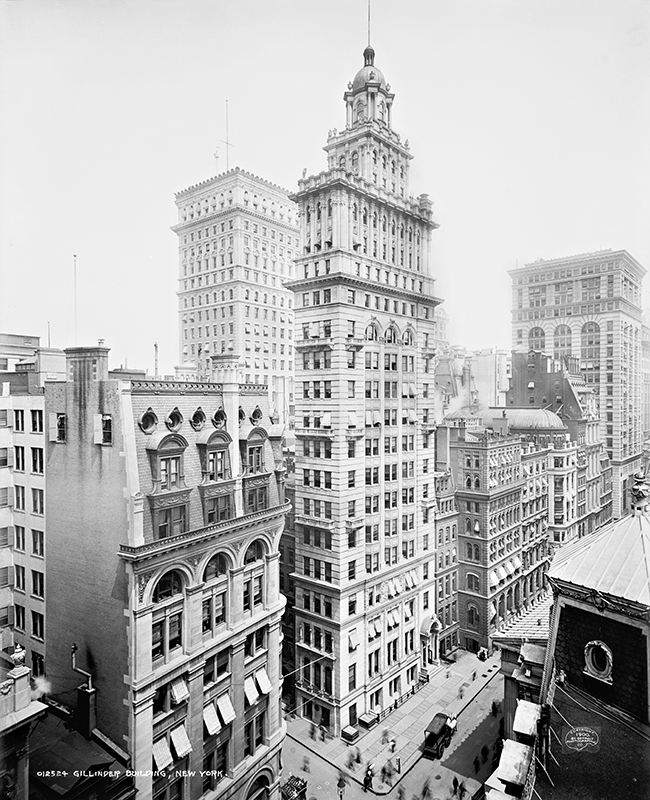 Gillender Building, 1900, New York. Detroit Publishing, Co., Library of Congress.
When the Gillender Building was completed in 1897, it was the fourth tallest building in the city, measuring 306 feet to the tip of its spire. What was most remarkable about it, though, was its slenderness. On the tiny site of the 6-story Union Building, on the northwest corner of Wall and Nassau streets, architects Berg and Clark packed 20 stories on a plot of only 26 x 73 feet.
Just five feet wider than the Tower Building, but nearly twice as tall, the Gillender Building employed a complete steel-skeleton frame that made its extreme slenderness possible. By 1897, true skeleton-frame buildings had been constructed for several years, and the technology was rapidly maturing. The use of built-up steel columns to carry the heavy gravity and wind loads, multiple spandrel beams to support the exterior walls, and wind bracing within the frame had become standard.
It was the extraordinary value of the land at the prominent corner of Wall, Broad, and Nassau streets - the heart of capitalism, with the New York Stock Exchange, the headquarters of J.P. Morgan, the U.S. Sub-Treasury, and numerous banks - that made the enormous expense of the tiny, ornate Gillender Building both possible and profitable. The high demand for this prime location, combined with advances in steel-frame technology, drove developers and architects to capitalize on the escalating value of land in super-slender towers.