The Skyscraper Museum is devoted to the study of high-rise building, past, present, and future. The Museum explores tall buildings as objects of design, products of technology, sites of construction, investments in real estate, and places of work and residence. This site will look better in a browser that supports web standards, but it is accessible to any browser or Internet device.
Traditional & Post-modern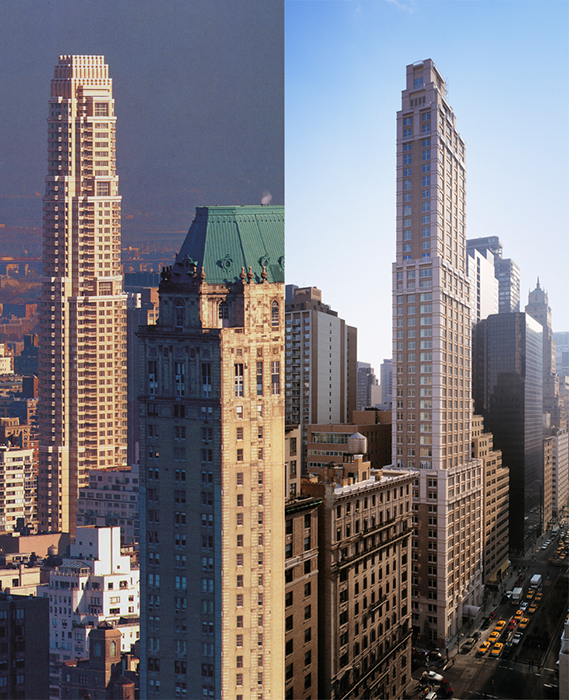 Left: Trump Palace, 1991. The Architecture of Frank Williams (1997). Collection of the Skyscraper Museum.
Right: 515 Park Ave, 2000. Photo by Jeff Goldberg/ESTO. Courtesy of Zeckendorf.
During the same years the modernist dark-glass curtain wall set the standard for luxury towers, a counter style appeared that emphasized traditional values and materials, sometimes even in the portfolio of the same developer. The two buildings pictured here, Trump Palace (left) and 515 Park Avenue, represent two aspects of postmodern or classical styles, both by the late architect Frank Williams.
Completed in 1991 and 2001, the slender spires of Trump Palace and 515 Park Avenue, developed by the Zeckendorf family, evoked the towered hotels of the 1920s. Both employed a pattern of masonry walls and picture windows that create more traditional interiors than all-glass facades and also hide structural columns within the walls. The wrap-around corner windows and pyramidal crown of Trump Palace allude to Art Deco favorites such as the Chrysler Building and Majestic Apartments, while the corner quoins, pilasters, and balconies, used at 515 Park Avenue, complement the walls of French limestone. In both buildings slenderness served as a strategy to lift the upper floors high into the sky to capture panoramic views and keep the floor plates relatively small and more exclusive.
In 1991, the most expensive apartment in Trump Palace sold for $3.5 million. According to an October 2013 article in the New York Times, a floor-through combination unit at the Trump Palace, No. 47A/B, "with six terraces and gravity-defying vistas of the cityscape and Central Park" sold for $15 million. Even before its completion in 2001, all of the apartments at 515 Park had been sold, and the building was reported to be the first condominium in the city to achieve $3,000 a square foot.