The Skyscraper Museum is devoted to the study of high-rise building, past, present, and future. The Museum explores tall buildings as objects of design, products of technology, sites of construction, investments in real estate, and places of work and residence. This site will look better in a browser that supports web standards, but it is accessible to any browser or Internet device.
Lotte World Tower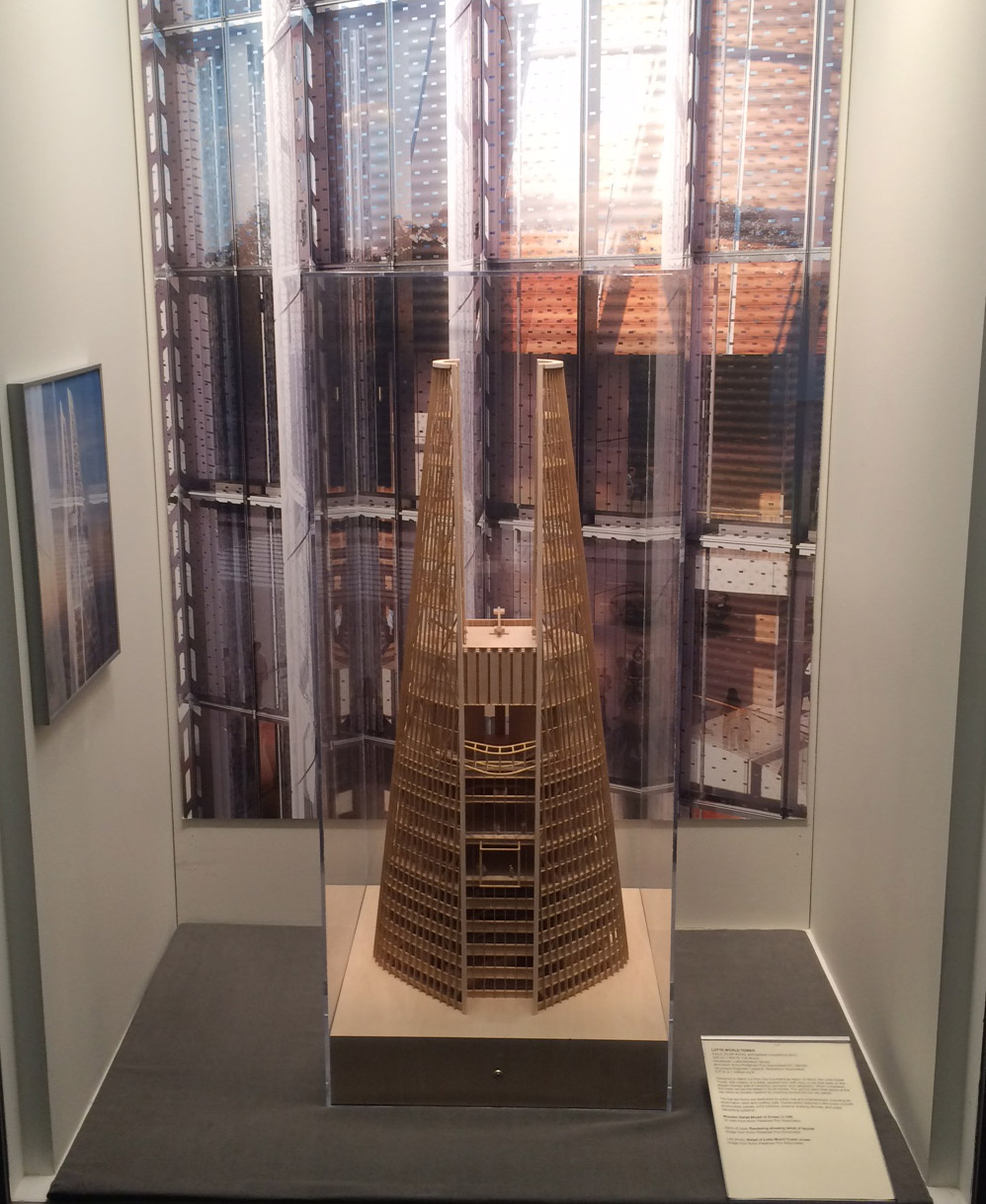 Wooden Detail Model of Crown (1:100). On loan from Kohn Pedersen Fox Associates. Back of case: Rendering showing detail of facade. Image from Kohn Pedersen Fox Associates.
Seoul, South Korea, anticipated completion 2015
556 m/ 1,824 ft/ 123 floors
Developer: Lotte Moolsan Group
Architect: Kohn Pedersen Fox Associates PC | BAUM
Structural Engineer: Leslie E. Robertson Associates
G.F.A: 2.1 million sq ft


Designed to stand out from the mountainous region of Seoul, the Lotte Super Tower, 556 meters, is a sleek, tapered form with long curves that draw on the elegant Korean arts of ceramics, porcelain and calligraphy. When completed, the tower will be the tallest in South Korea. The vertical seam that splays at the top refers to Korean tradition by orienting toward the old city center.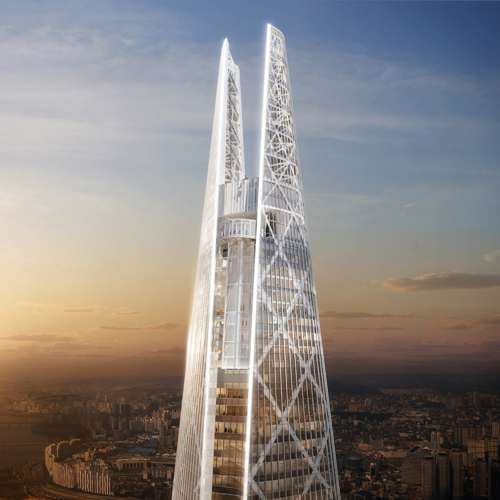 Detail of Lotte World Tower crown. Image from Kohn Pedersen Fox Associates
The top ten floors are dedicated to public use and entertainment, including an observation deck and rooftop cafe. Sustainability features in the crown include photovoltaic panels, wind turbines, external shading devices, and water harvesting systems.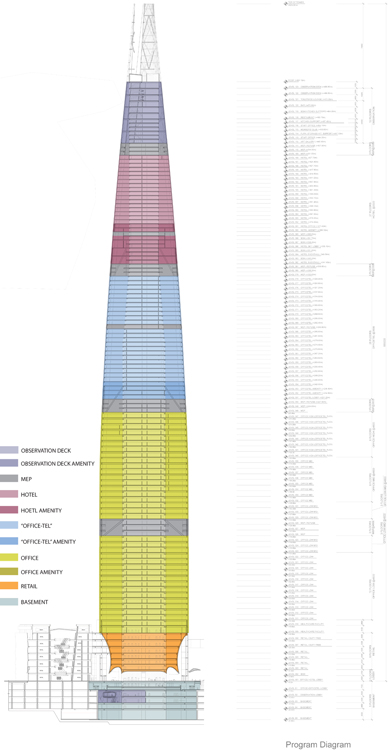 Tower section showing building program. Courtesy of Kohn Pedersen Fox Associates
The tower is organized around a mixed-use program, comprising retail, office, officetel, and hotel, as well as an observation deck at the top. The building's first nine floors will contain retail; offices will occupy floors 13 to 38; 30 floors of officetel on floors 42 to 71; and a 6-star luxury hotel will comprise floors 76 to 101. The building's top 7 stories are earmarked for extensive public use and entertainment facilities including an observation deck and rooftop cafe. Upon completion in 2015, it will be one of the tallest buildings in Asia.
Elegance of form was one of the prime objectives, following Lotte's desire to bestow a beautiful monument to the capital city skyline. The sleek tapered form of the tower will stand out from the city's rocky mountainous topography. Exterior materials will be light-toned silver glass accented by a filigree of white lacquered metal, as seen in the rendering inside this case.