The Skyscraper Museum is devoted to the study of high-rise building, past, present, and future. The Museum explores tall buildings as objects of design, products of technology, sites of construction, investments in real estate, and places of work and residence. This site will look better in a browser that supports web standards, but it is accessible to any browser or Internet device.
TAIPEI 101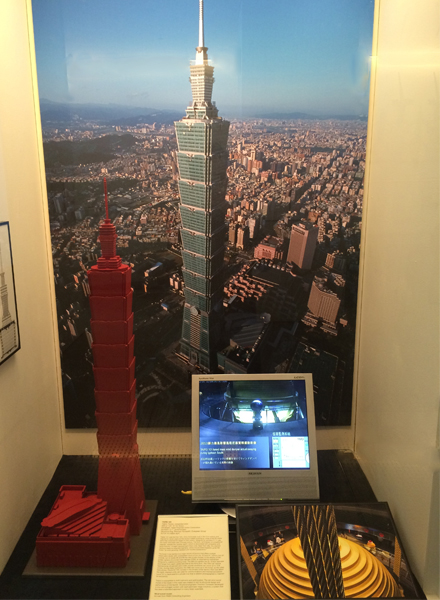 Wind tunnel model on loan from RWDI Consulting Engineers.
Back of case image of tower. Courtesy of Taipei Financial Center Corp.
Tuned mass damper photo (below). Courtesy Jorge Orpinel.
Taipei, Taiwan, completed 2003
508 m/ 1,671 ft/ 101 floors
Developer: Taipei Financial Center Corporation
Architect: C.Y. Lee & Partners
Structural Eng: Thornton Tomasetti | Evergreen Group
G.F.A: 4.4 million sq ft

Taipei 101 was the first 100+ story skyscraper built in the 21st century and reigned for seven years as the world's tallest building by virtue of the 60-meter spire that stretched its height to 508 meters. Designed by architect C. Y. Lee, the tower resonates with Chinese culture. The form, reminiscent of a traditional pagoda, repeats the number eight—which is associated with prosperity and good fortune—in eight stacked eight-floor units. Seen from afar, the stacked sections begin to resemble bamboo, which the architect explains, gives the tower "an ever-growing, resistant and flexible appearance."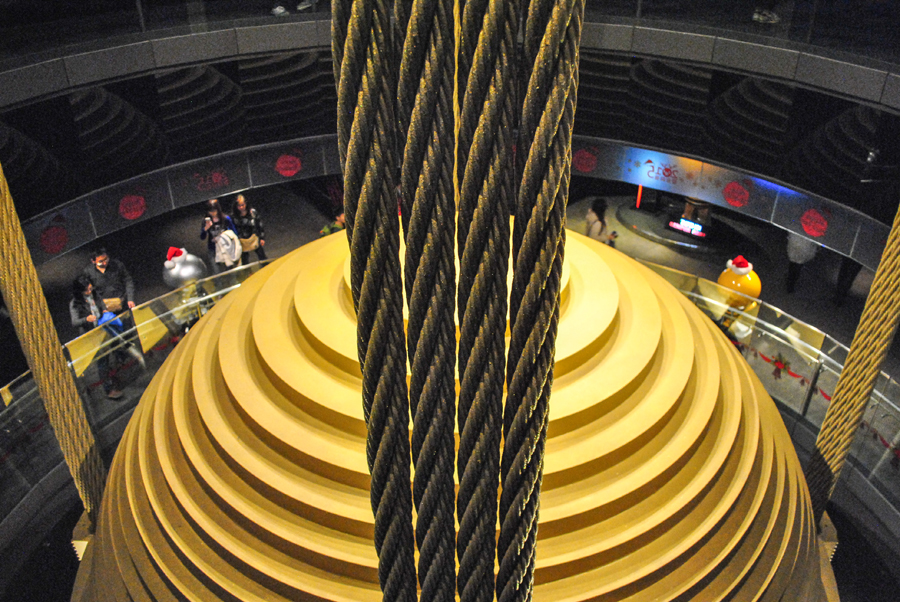 The tower's top section is a major tourist attraction that offers multiple observation levels with unparalleled views of the city. At level 91, visitors may go outside, but on levels 88 and 89 the view is also inward, to the display of the golden sphere of a tuned mass damper (TDM), an engineering mechanism designed to stabilize building sway. The 660-ton sphere has an 18-foot diameter and hangs from eight cables secured at the 92nd floor. The TMD can reduce resonance by 40 percent and under normal conditions can move up to 13.8 inches. During major typhoons, the TMD can move up to 59 inches, as the video here shows. Floors 92-100, located in the smaller tower section that rises about the eight, stacked units, are used for communications and mechanical spaces. Level 101 is dedicated to a private club that is seldom photographed to maintain its exclusivity.
Taipei is susceptible to both typhoons and earthquakes. The red wind tunnel model of the tower in this case was created to test its structural design and performance of the façade. Structural engineers Thornton Tomasetti developed a core and outrigger system with eight perimeter mega-columns, a system that has been a standard approach in many Asian supertalls.