The Skyscraper Museum is devoted to the study of high-rise building, past, present, and future. The Museum explores tall buildings as objects of design, products of technology, sites of construction, investments in real estate, and places of work and residence. This site will look better in a browser that supports web standards, but it is accessible to any browser or Internet device.
Shanghai Tower
Shanghai, China, topped out in October 2014
632 m/ 2,073 ft /121 occupied floors and 128 levels to the architectural top
Developer: Shanghai Tower Construction & Development Co., Ltd
Architect: Gensler
Structural Engineer: Thornton Tomasetti
G.F.A: 4.1 million sq. ft.

The innovative spiraling shape of the Shanghai Tower, the tallest of the trio of skyscrapers that form the centerpiece of the new business and financial district of Pudong, is described by its government client as "a symbol of a nation whose future is filled with limitless opportunities." At 632 meters/ 2,073 ft., it is currently China's tallest skyscraper, although three others in the works–in Shenzhen, Wuhan and Suzhou–will surpass it.
Organized in nine sections which function essentially as separate buildings stacked vertically, the tower's usable floor space is contained within symmetrical cylinder with its own glass curtain wall. Around this internal structure rises another facade of glass that is triangular in shape and rotates as it rises. Thornton Tomasetti, the structural engineers on the project, describe the exterior of the tower as a "gently twisting triangle that tapers with height and drapes around an inner concrete structure."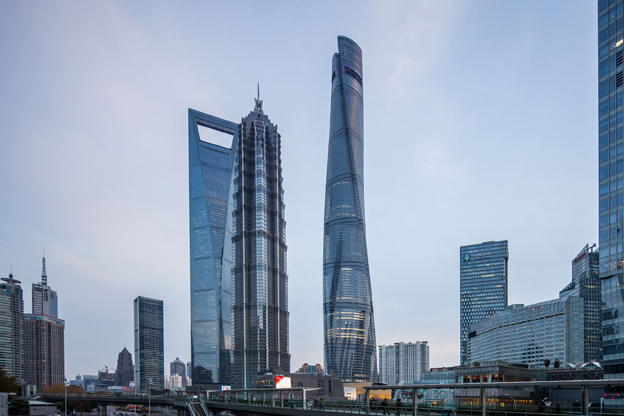 Exterior view of Shanghai World Financial Center, Jin Mao Tower, and Shanghai Tower. This trio of supertalls is the centerpiece of the new business and financial district of Pudong. Courtesy of Gensler.
This double-skin affords an insulating effect to control air temperature and quality. It also creates a series of 14-story high atrium public spaces or "sky gardens" intended to create a sense of community for the occupants and visitors in that zone of the tower.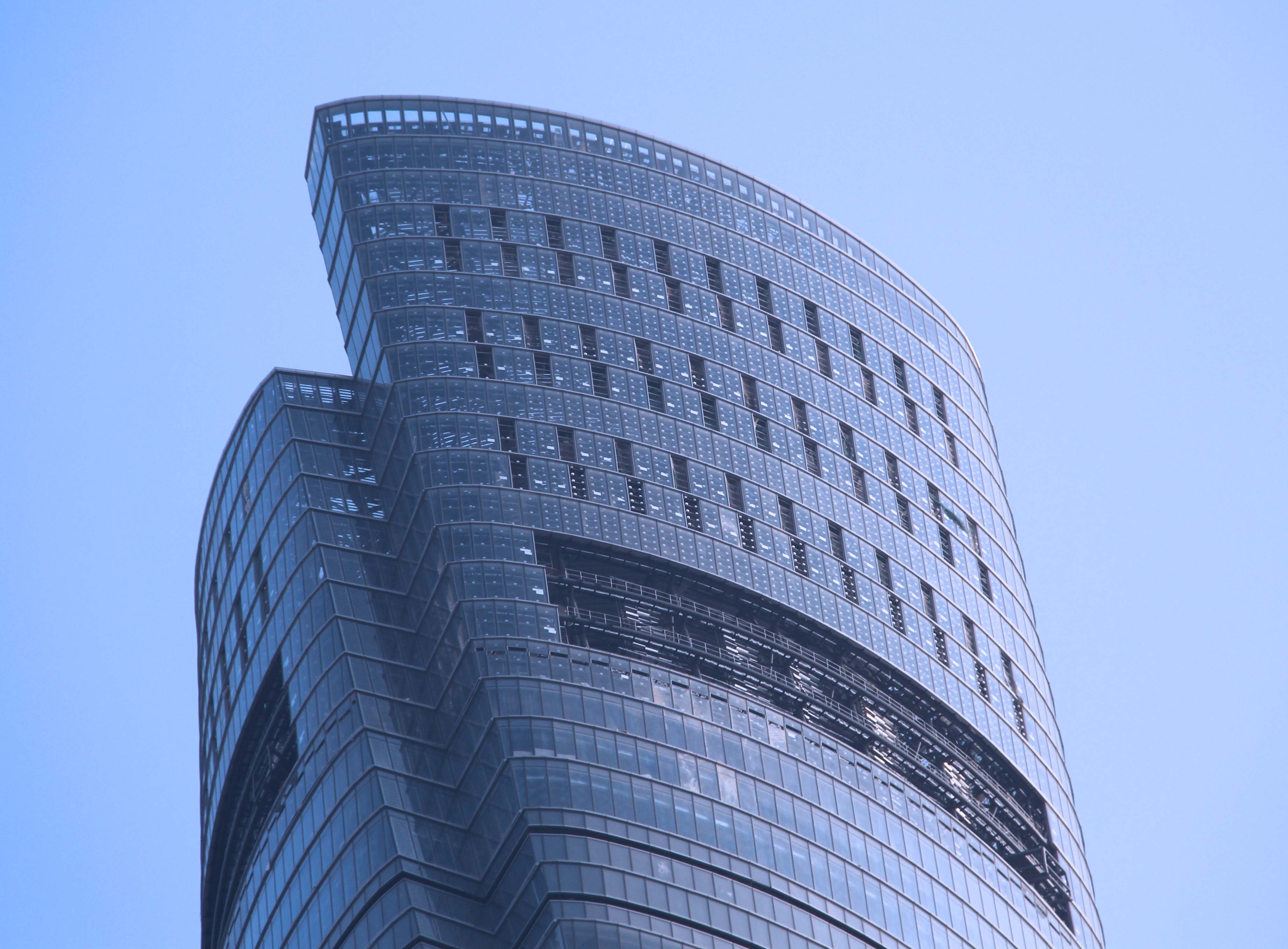 Shanghai Tower crown showing wind turbines. The building's crown which spans levels 121-128 houses multiple functions: a 1,100-ton tuned mass damper (TMD) atop the central core; a series of wind turbines at the perimeter of L122-L124; cooling towers and window washing tracks. Courtesy of Gensler.

The top segment of Shanghai Tower is devoted to a luxury hotel, The Four Seasons, public observation decks, and an open "crown" that adds seven more levels above the 121 occupied floors. The open roof, surrounded by a partially-glazed grill of steel, encloses a host of environmental and engineering features such as wind turbines, cooling towers, a tuned mass damper, and tracks for window-washing equipment.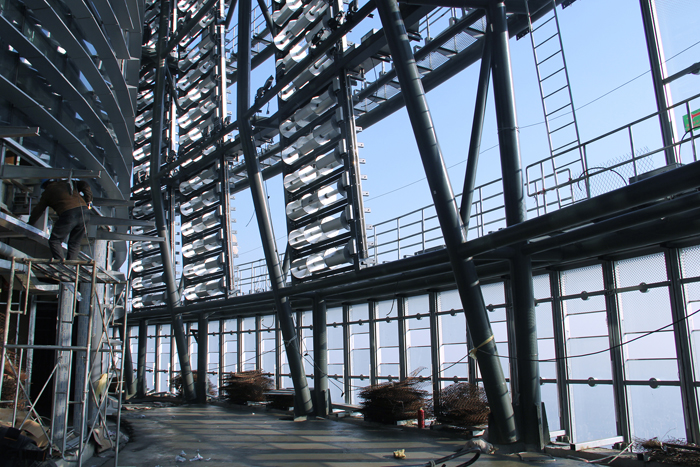 Horizontally-oriented wind turbines. Installed atop the tower are 270 wind turbines with the total capacity of 135W. They can produce more than 150,000 kWh annually and can power the exterior lighting and public spaces.
Tower structure fly-through. Courtesy of Thornton Tomasetti.

This video illustrates the structural system, a core wall-outrigger-mega-frame, created for the Shanghai Tower by engineers at Thornton Tomasetti.
Around the main tower structural floor plate is a perimeter grid that supports the glass curtain wall hung from the mechanical levels spaced at 14-floor intervals up the tower. The hanging rods that support the curtain wall and create the atrium space are not included in this rendering. The final structural design for the top is also not included as final adjustments were still being made when the fly-through was created.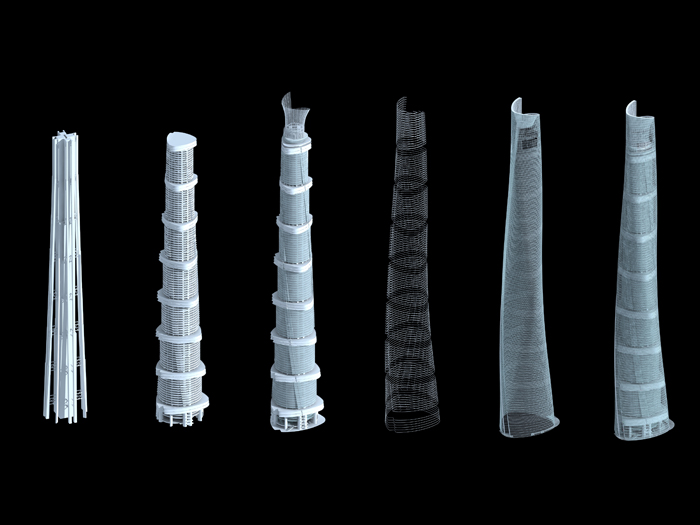 Rendering of the structural system and stacked segments. The tower's asymmetrical form, tapering profile, and rounded corners allow the building to withstand typhoon-force winds, and the 120-degree rotation minimizes wind loads. Courtesy of Thornton Tomasetti.