The Skyscraper Museum is devoted to the study of high-rise building, past, present, and future. The Museum explores tall buildings as objects of design, products of technology, sites of construction, investments in real estate, and places of work and residence. This site will look better in a browser that supports web standards, but it is accessible to any browser or Internet device.
RESIDENTIAL TOWERS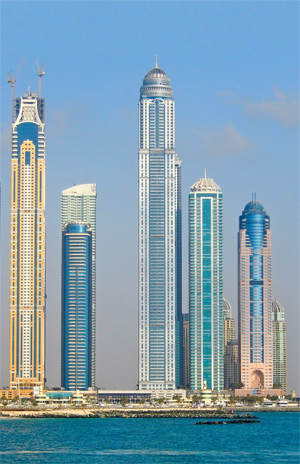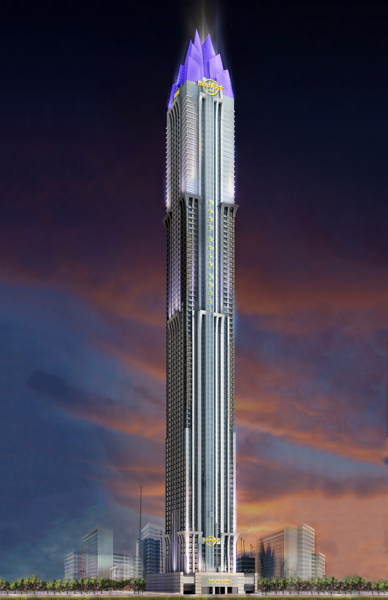 PRINCESS TOWER
Dubai, UAE, completed 2012
414m/ 1,358 ft/ 101 floors
Developer: Tameer Holding Investment
Architect: Engineer Adnan Saffarini
Structural Engineer: ASE
Engineer Adnan Saffarini
MARINA 101
Dubai, UAE, anticipated completion 2015
427 m/ 1,399 ft/ 101 floors
Developer: Sheffield Holdings Limited / EMAAR
Architect: National Engineering Bureau
Structural Engineer: National Engineering Bureau
Image courtesy of Hard Rock International
The prestige of great height seems to drive many projects in the Middle East and, more recently, in India. All of the towers shown in this section are either exclusively or primarily residential. In order to achieve their 100+ -story height, developers and their architects have employed a strategy of slenderness, often creating pencil-thin towers.
Developers in the United Arab Emirates often cluster their buildings very close together, not for lack of space, but to create an instant urban concentration around an attraction or amenity. This allows easy pedestrian access to all facilities in an environment that is dictated heavily by the automobile. In the collection of seaside towers in the Dubai Marina development, the strategy for profit is to pack many apartments per floor. The Princess Tower - the tallest in the photograph above-left – is 101 stories and contains 763 apartments, 957 underground parking bays on 6 levels, and 8 retail outlets. Marina 101 is a mixed-use tower with a Hard Rock Hotel in the lower 33 floors and apartments above. The 101st floor will feature a Hard Rock Café & Lounge with a 360-degree view of the city.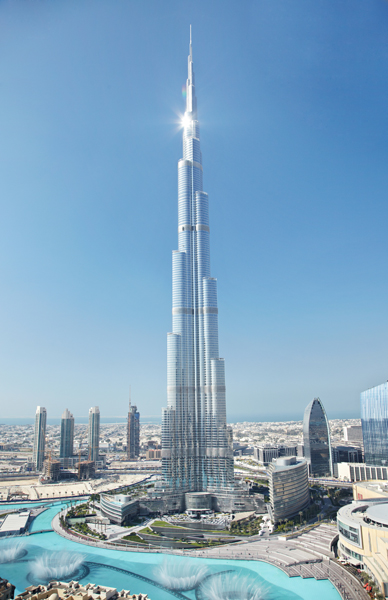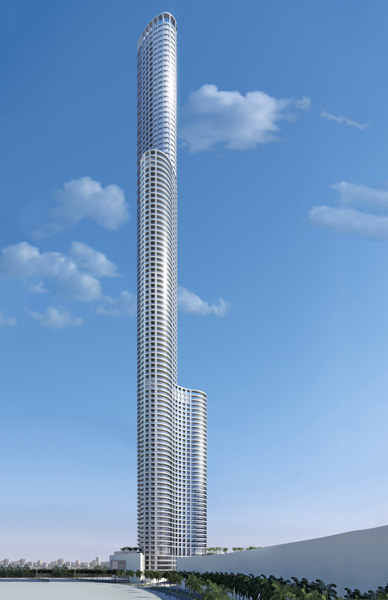 BURJ KHALIFA
Dubai, United Arab Emirates, completed 2010
828 m/ 2,717 ft/ 163 floors
Developer: Emaar Properties
Architect: Skidmore, Owings & Merrill (SOM)
Structural Engineer: SOM | Hyder Consulting
WORLD ONE
Mumbai, India, anticipated completion 2016
442 m/ 1,450 ft/ 117 floors
Developer: Lodha Group
Architect: Pei Cobb Freed & Partners
Associate Architect: Somaya & Kalappa Consultants
Private Limited, Mumbai
Structural Engineer: Leslie E. Robertson Associates
The tallest structure in the world at present, the Burj Khalifa, stands 163 stories and is principally residential. The Armani Hotel occupies the bottom floors, with apartments in levels 20 to 110 and elite corporate office suites above. Burj Khalifa is the centerpiece of a 500-acre, US $20 billion complex that includes the world's largest shopping mall, an artificial lagoon, landscaped parks and gardens, and a variety of new neighborhoods of high-rise housing and traditional villas.
In nearby Mumbia, India, the developer Lodha is creating a complex of three towers called World One. The tallest, at 117-stories, will be completed in 2016 and will have more than 300 luxury apartments, some overlooking the Arabian Sea.