The Skyscraper Museum is devoted to the study of high-rise building, past, present, and future. The Museum explores tall buildings as objects of design, products of technology, sites of construction, investments in real estate, and places of work and residence. This site will look better in a browser that supports web standards, but it is accessible to any browser or Internet device.
ROOM AT THE TOP - 40 WALL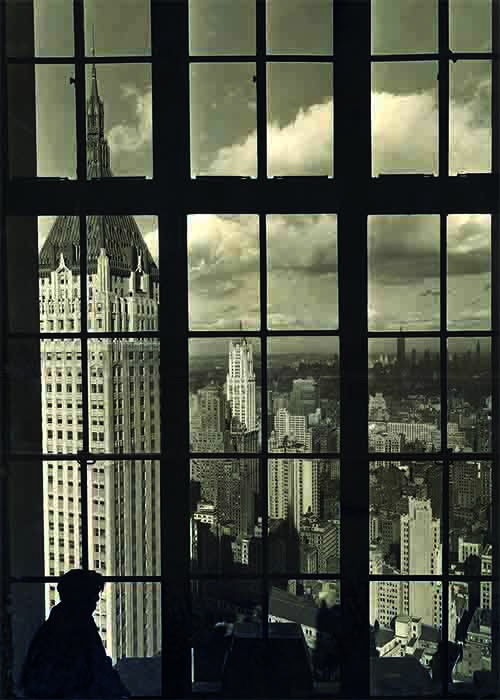 The photograph, taken from the board room of 63 Wall Street, c.1930, shows the top to the peaked tower of 40 Wall Street. Collection of The Skyscraper Museum.
The view from skyscraper heights – the elevated board room or corner office – holds much prestige. This photograph of the early 1930s captures the commanding view from the top floor of 63 Wall Street, built in 1929 as the headquarters of the patrician bank Brown Brothers & Co., later Brown Brothers Harriman & Co. The large window looks north past the peaked tower of 40 Wall Street and the Woolworth Building and beyond, to the silhouette of the Empire State Building in midtown.
The top floors of towers in the financial district were often occupied by corporate suites and business clubs where bankers, lawyers, and other professionals lunched, drank, and connected with their kind. The smaller financial district lots limited the floor area of towers, and owners saw little advantage in accommodating mass-tourism in observatories like those at the Woolworth Building or Empire State.


At 40 Wall Street, the 69th and 70th floor "observation rooms" were reported to be able to accommodate a group of one hundred, but in general, the topmost floors were highly exclusive. One of the most spectacular spaces was the 49th floor of One Wall Street, headquarters of the Irving Trust Company, where a two-story vaulted ceiling covered in luminescent pearl shells afforded a swank meeting space for executives.