The Skyscraper Museum is devoted to the study of high-rise building, past, present, and future. The Museum explores tall buildings as objects of design, products of technology, sites of construction, investments in real estate, and places of work and residence. This site will look better in a browser that supports web standards, but it is accessible to any browser or Internet device.
TEN TALLEST 100+ STORY SKYSCRAPERS

TOPPED-OUT TOWERS TODAY (4.15.15)
What are the 10 tallest towers in the world today?
This simple question can have different answers, depending on the definition of what is being measured. The Council on Tall Buildings and Urban Habitat (CTBUH), the organization that keeps a rigorous database of vertical markers, uses three main categories: 1) height to the architectural top; 2) to the highest occupied floor; and 3) to the tip (including added antennas, flagpoles, etc.).
The category that The Skyscraper Museum has surveyed for its exhibition TEN TOPS comprises all skyscrapers of 100 stories or taller that are completed or under construction. The Museum's list of tallest towers today considers all of those that are "topped out" – meaning the building has achieved its full vertical height, but is not yet open to the public. Our Top Ten list therefore differs from the CTBUH which waits until a building is open for occupancy to include in its line-ups.

VIEW THE SLIDESHOW
The Skyscraper Museum's Top Ten includes only buildings, not other types of tall structures such as the Canton Tower in Guangzhou, which rises 600m to the top of its antenna and has an observation deck at 488 meters. In the world today, we count 24 buildings that are 100 stories or taller. Of these, 15 are completed or topped out. Another 9 are still in various stages of construction.

Click here for the list of 24 buildings that are 100 stories or taller.



Above: Height to Architectural Top © Council on Tall Buildings and Urban Habitat.
Below: Ten Tallest Towers of 100+ Stories, The Skyscraper Museum (based on CTBUH images).

Our line-up of Top Ten topped-out towers diverges from that of the CTBUH line up above (ordered by the definition of Architectural Top) in two ways: While we use their official measurements of vertical height, our category includes only buildings with 100 or more stories. Therefore, we exclude 88-story Petronas Towers in Kuala Lumpur and the 66-story Zifeng Tower in Nanjing. We do include two recently topped out 100+ Chinese towers, the 128-story Shanghai Tower, the world's current second-tallest building, and the 111-story CTF Finance Center in Guangzhou, currently #5.
Our slide show and line-up counts from the 100-story KK100 to the Burj Khalifa, at 828m and 2,717 feet, the tallest building in the world in all categories.
---
10. KK100
Shenzhen, China 100 fl 442 m / 1,449 ft (completed 2011)
KK100's curved form and parabolic arch top is meant to evoke the image of a fountain, a symbol of wealth and prosperity. At 100 stories, the mixed-use tower combines an office building below and hotel in the top 26 floors, organized in a ring around a dramatic open atrium. Guests of the St. Regis Shenzhen take elevators directly to the 94th floor Sky Garden Lobby, which opens up into a 6-story cathedral-like space that holds the hotel's multi-level dining venues and offers breathtaking views of Shenzhen and Hong Kong's New Territories to the south.
See KK100 in TEN TOPS
9. SEARS/ WILLIS TOWER
Chicago, USA 110 fl 442 m / 1,451 ft (completed 1974)
Sears Roebuck and Company, then the world's largest retailer, announced plans to build the world's tallest building in downtown Chicago in July 1970. Part headquarters for Sears, part rentable offices, with 110 stories, Sears (now Willis) Tower exceeded the WTC North Tower by 82 feet and held the record for more than 20 years until surpassed by the Petronas Towers in Kuala Lumpur in 1998.
The Skydeck Pavilion on the 103rd floor was added in 1985 by Skidmore Owings and Merrill as a tourist observation deck. In 2009, the attraction was renovated to incorporate retractable glass-floored balconies that extend four feet from the tower.
Visit the TEN TOPS virtual exhibit
8. INTERNATIONAL COMMERCE CENTER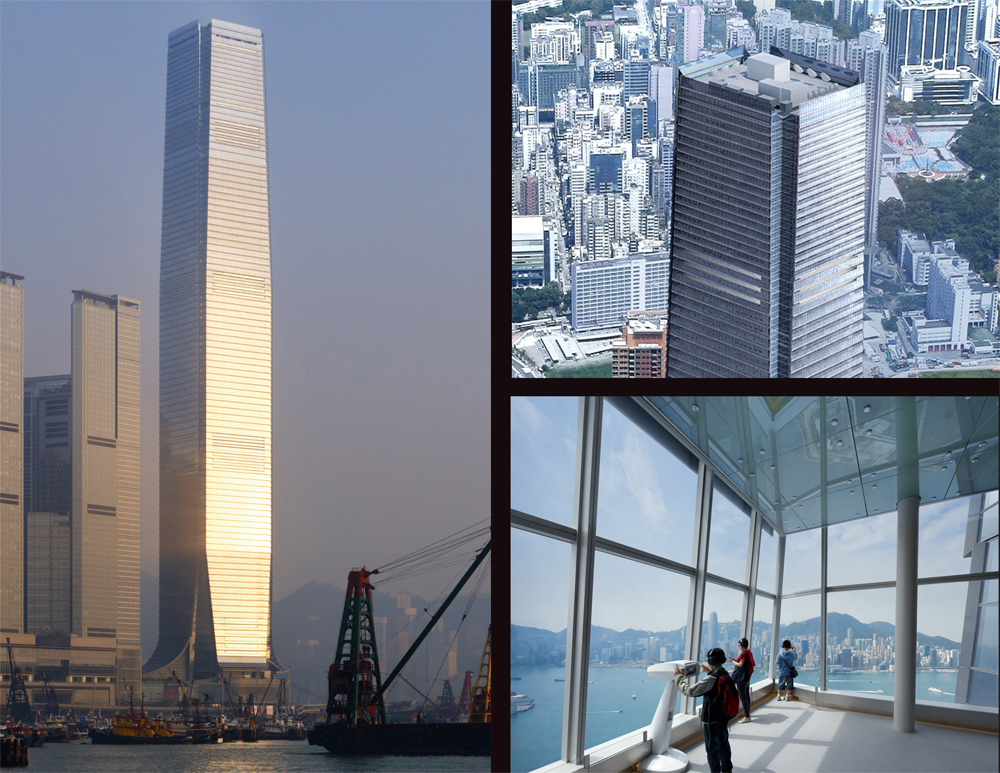 Hong Kong 118 fl 484 m / 1,588 ft (completed 2010)
The tallest building in Hong Kong, the International Commerce Centre (ICC), together with its visual counterpoint, the IFC2 across the water on Hong Kong Island, marks the entrance to Victoria Harbor. The building's 118 stories house over 2.5 million square feet of offices and are crowned by a Ritz-Carlton Hotel, which is the highest hotel in the world. While it has never reigned as the world's tallest building, the ICC does feature the world's highest cocktail lounge and the world's highest swimming pool, both located at 1,538 feet, on the 108th floor.
See ICC in SUPERTALL!
7. SHANGHAI WORLD FINANCIAL CENTER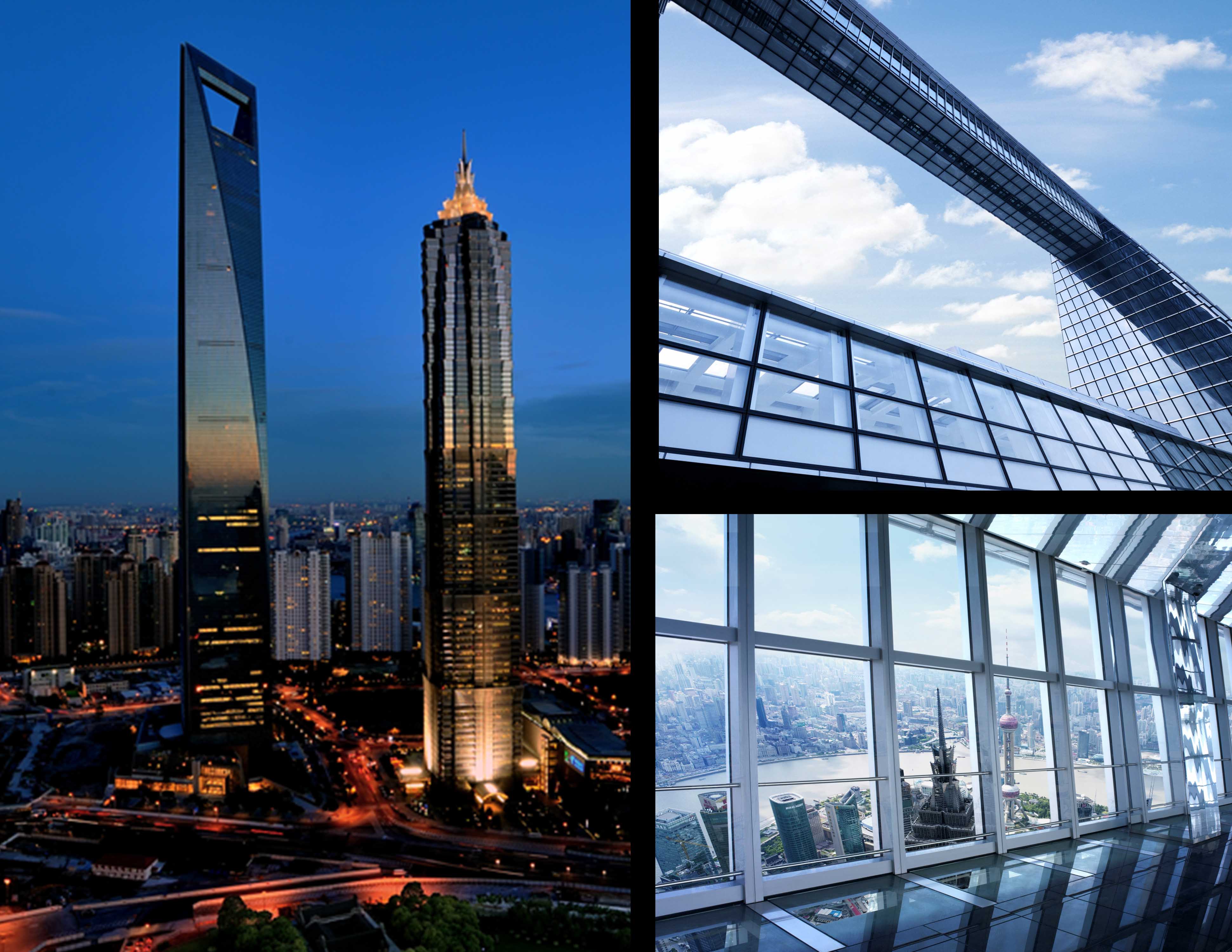 Shanghai, China 101 fl 492 m / 1,614 ft (completed 2008)
It took 15 years for the Shanghai WFC to go from first plans to opening, in part due to a four-year pause in construction caused by the late '90's Asian financial crisis. When construction resumed in 2001, the tower's design gained nearly 105 feet and the central design element of the tower's top – a large circular opening – had changed to a square prism. Originally intended by the architect to evoke ancient Chinese celestial stone disks that represent the heavens, as well as the moon gates of traditional Chinese gardens, Chinese government officials instead saw the rising sun of the Japanese flag. The square prism represents the updated, compromise design and holds the indoor observation levels that occupy the floors that define the top and bottom of the trapezoid.
See Shanghai World Financial Center in TEN TOPS
6. TAIPEI 101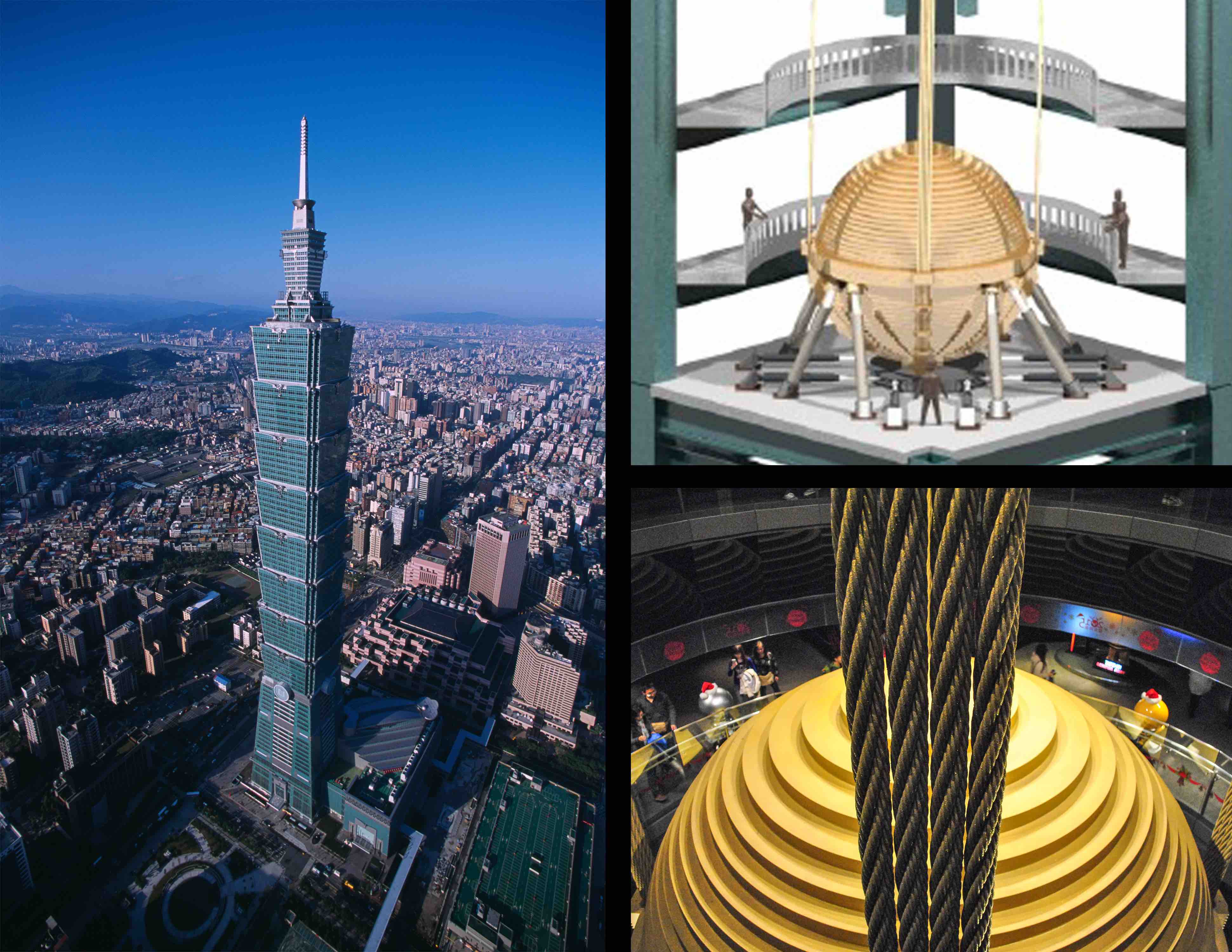 Taipei, Taiwan 101 fl 508 m / 1,667 ft (completed 2004)
Taipei 101 was the first 100+ story skyscraper built in the 21st century and reigned for seven years as the world's tallest building by virtue of the 60-meter spire that stretched its height to 1,667 feet. The form, reminiscent of a traditional pagoda, repeats the number eight—which is associated with prosperity and good fortune—in eight stacked eight-floor units.
The tower's top section is a major tourist attraction that offers multiple observation levels with unparalleled views of the city. At level 91, visitors may go outside, but on levels 88 and 89 the view is also inward, to the display of the golden sphere of a tuned mass damper (TDM), an engineering mechanism designed to stabilize building sway. The 660-ton sphere has an 18-foot diameter and hangs from eight cables secured at the 92nd floor. The TMD can reduce resonance by 40 percent and under normal conditions can move up to 13.8 inches. During major typhoons, the TMD can move up to 59 inches, as the video here shows.
See Taipei 101 in TEN TOPS
5. CTF FINANCE CENTER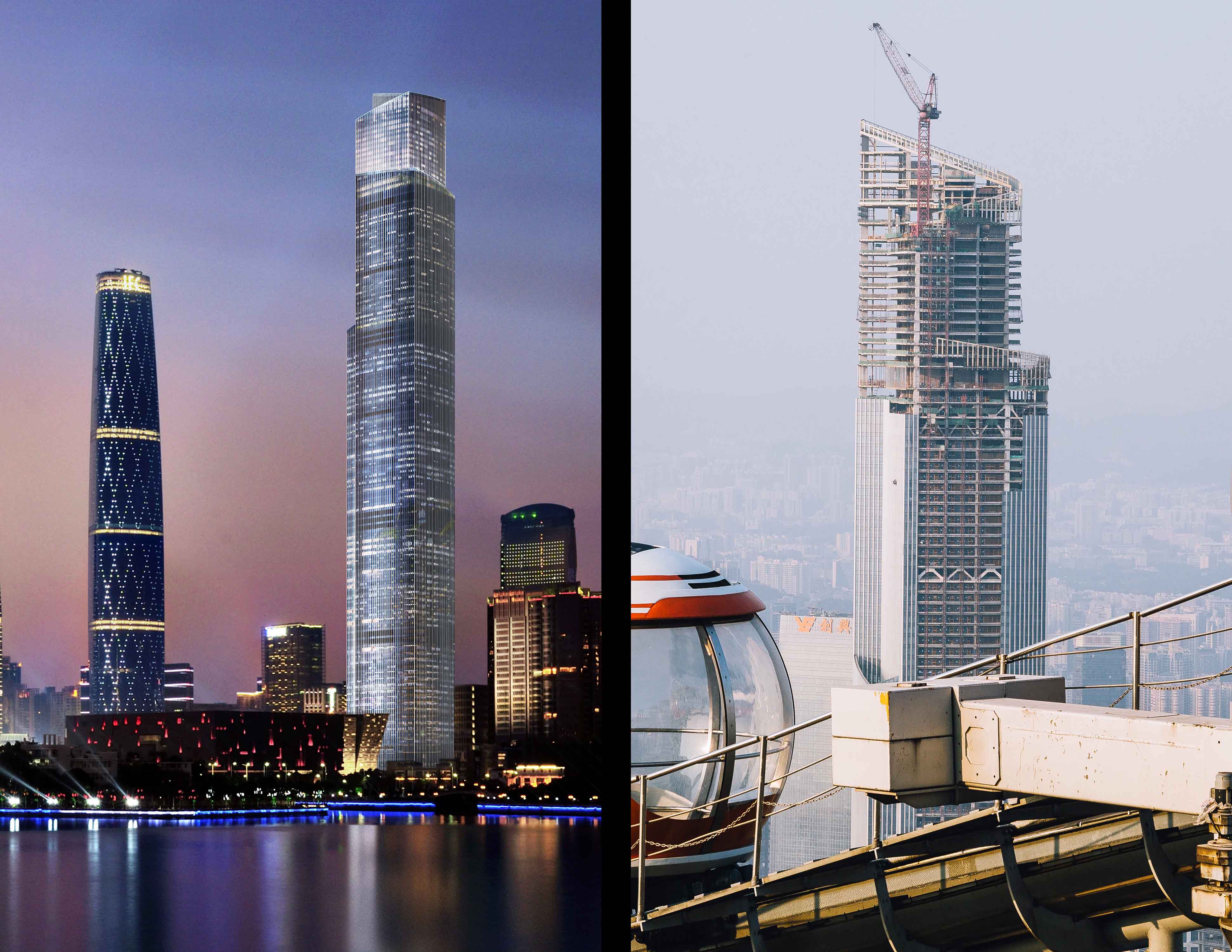 Guangzhou, China 111 fl 530 m / 1,739 ft (anticipated 2016)
Topped out in mid-2014, the CTF Finance Centre is currently China's second tallest tower. Designed by Kohn Pedersen Fox, the skyscraper's form changes as it rises, reflecting its functions of offices, apartments, and hotel. The shaft sets back at four angled parapets, to create sky terraces and skylights that illuminate the interior spaces below. The facade is clad in white terra cotta and metal for a shimmering effect of lightness and reflections.
View the TEN TOPS virtual exhibit
4. ONE WORLD TRADE CENTER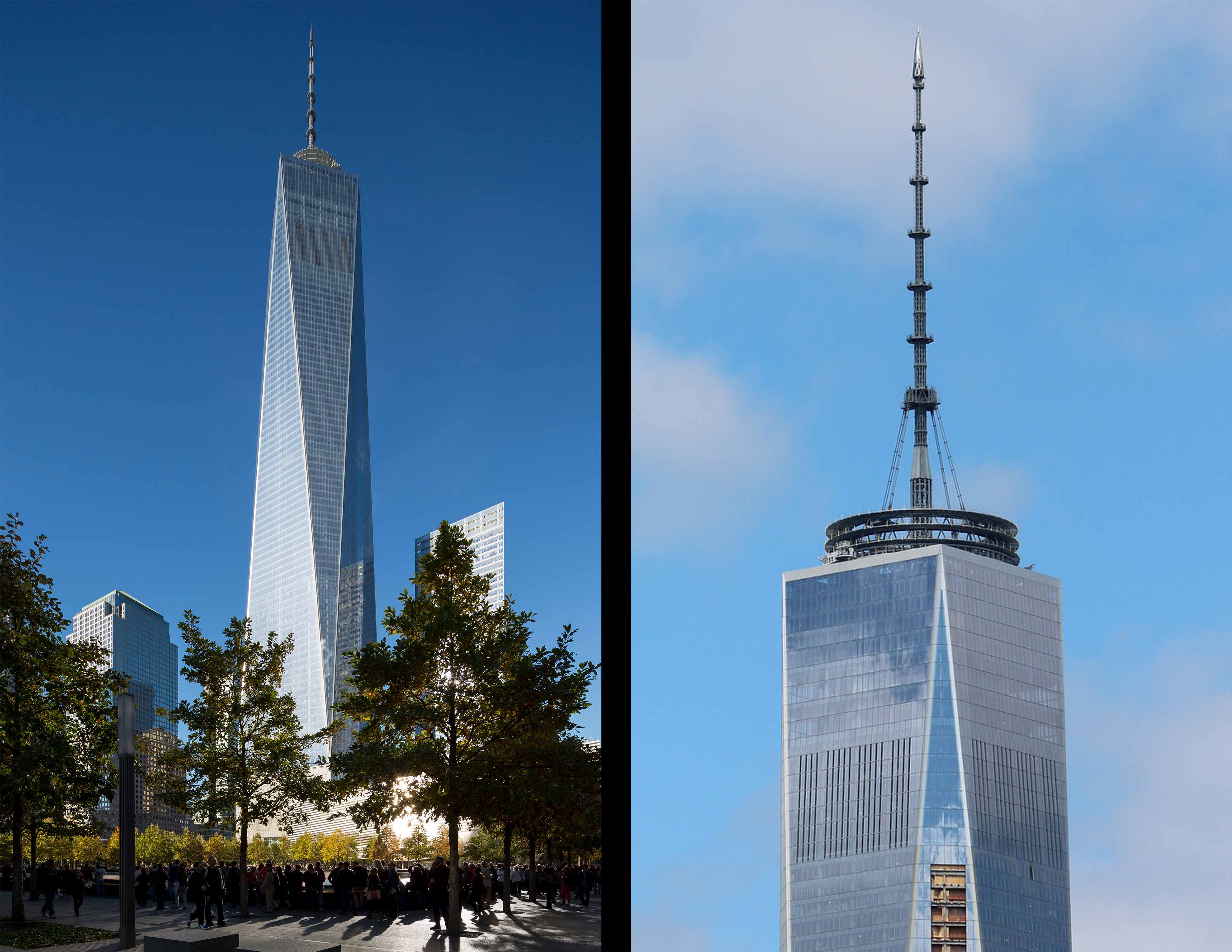 New York, USA 104 fl 541 m 1,776 ft (completed 2014)
The tallest building in North America almost wasn't the tallest. One World Trade Center's spire was originally designed with a shell of interlocking fiberglass triangles fashioned into a tapered form known as a radome. This spire was redesigned and simplified, which called into question if the new structure qualified as an integral architectural feature, a definition that distinguishes add-on antennas from architecture, according to one definition of vertical height by the referee organization the Council on Tall Buildings and Urban Habitat. What was at stake was the title of "Tallest Building in North America," which after 9/11 belonged to Chicago's Sears/Willis with its architectural height of 442 m / 1,451 ft. At a dual news conference in New York and Chicago, attended by international media on November 12, 2013, the CTBUH announced the ruling of its Height Committee that the spire of One WTC should be treated as an architectural feature, and thus One World Trade Center officially became the tallest building in North America.
See One World Trade in TEN TOPS
3. MAKKAH ROYAL CLOCK TOWER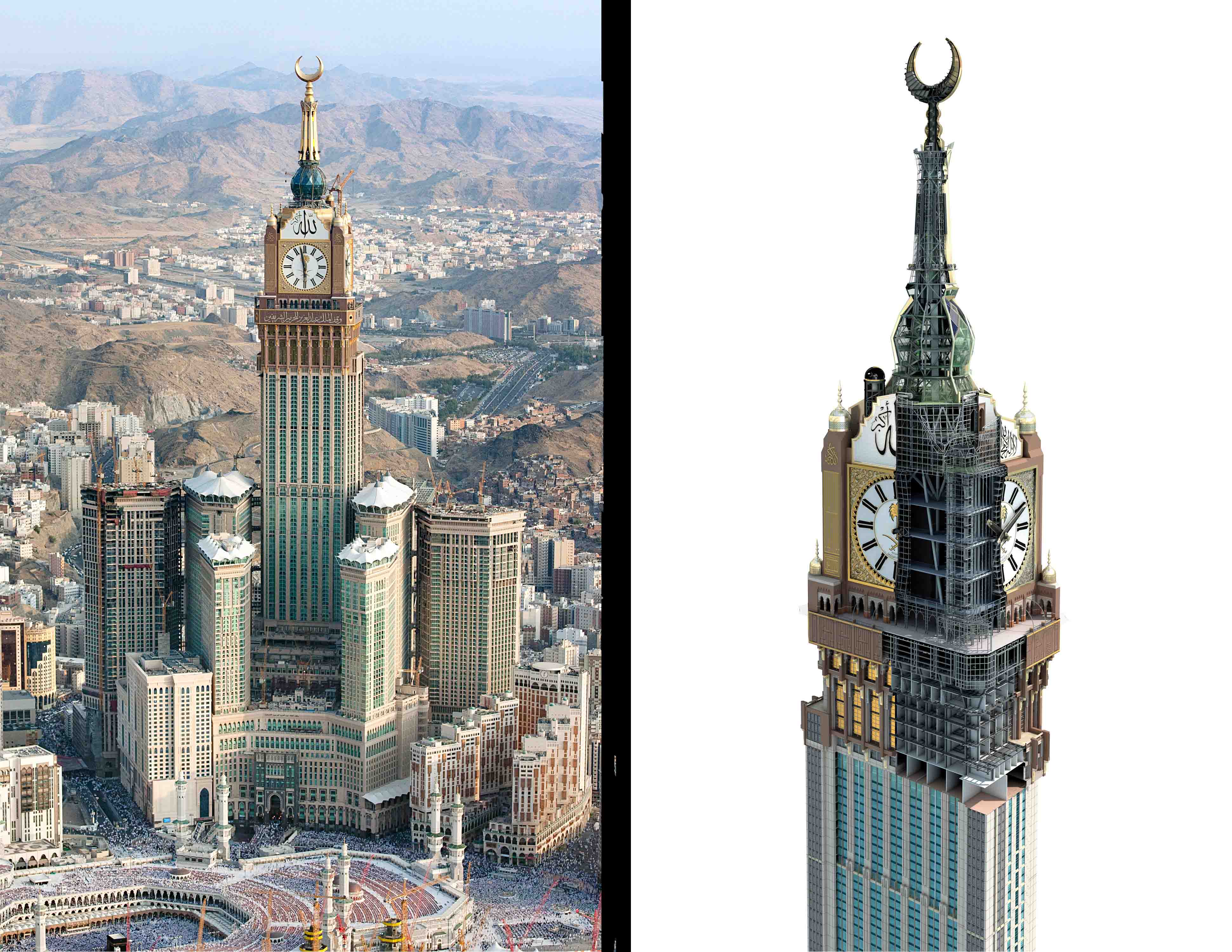 Mecca, KSA 120 fl 601 m / 1,972 ft (completed 2012)
Little known outside of the Muslim world, the Makkah Royal Clock Tower was a separate commission from the high-rise hotel below. The engineers at the German firm SL Rasch were asked to create the world's largest clock atop the building already under construction. Their work began 347 meters above ground on a structure of steel weighing 12,000 tons. In addition to the clock's precision mechanisms, inside the spire are also an astrological observatory, exhibition space, observation deck, and the Makkah Time Institute. The golden crescent, known as the Hilal, is the symbol of the Prophet and the acme of the Clock Tower. It contains the world's highest prayer room at 592 meters for the royal family and dignitaries.
See Makkah Royal Clock Tower in TEN TOPS
2. SHANGHAI TOWER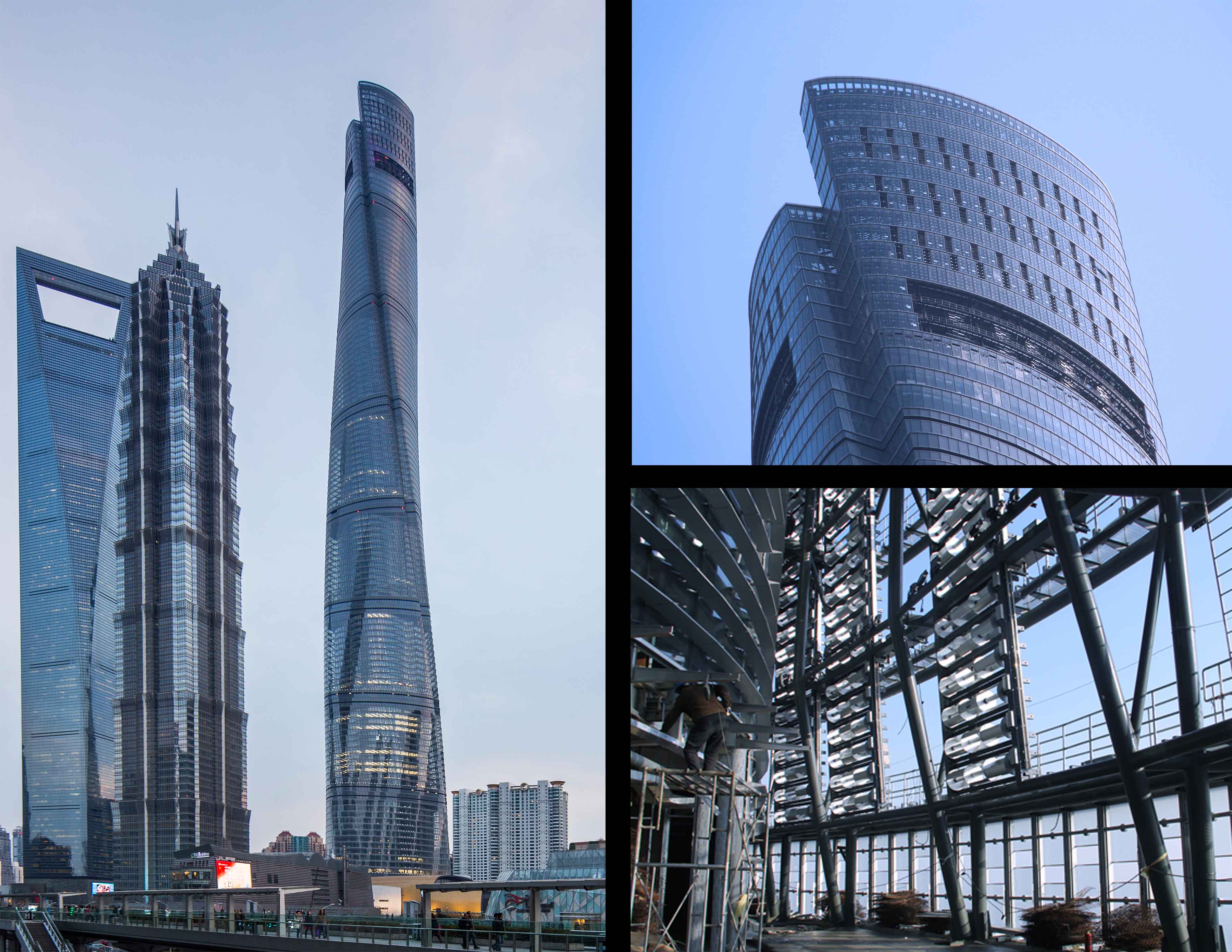 Shanghai, China 128 fl 632 m / 2,073 ft (completed 2015)
Shanghai Tower topped out in October 2014 and is scheduled to open late this year. Organized in nine sections which function essentially as separate buildings stacked vertically, the tower's usable floor space is contained within symmetrical cylinder with its own glass curtain wall. Around this internal structure rises another facade of glass that is triangular in shape and rotates as it rises. This double-skin affords an insulating effect to control air temperature and quality. It also creates a series of 14-story high atrium public spaces or "sky gardens" intended to create a sense of community for the occupants and visitors in that zone of the tower.
The top segment of Shanghai Tower is devoted to a luxury hotel, The Four Seasons, public observation decks, and an open "crown" that adds seven more levels above the 121 occupied floors. The open roof, surrounded by a partially-glazed grill of steel, encloses a host of environmental and engineering features such as cooling towers, a tuned mass damper, tracks for window-washing equipment and 270 Horizontally-oriented wind turbines that can produce more than 150,000 kWh annually and can power the exterior lighting and public spaces.
See Shanghai Tower in TEN TOPS
1. BURJ KHALIFA (completed 2010)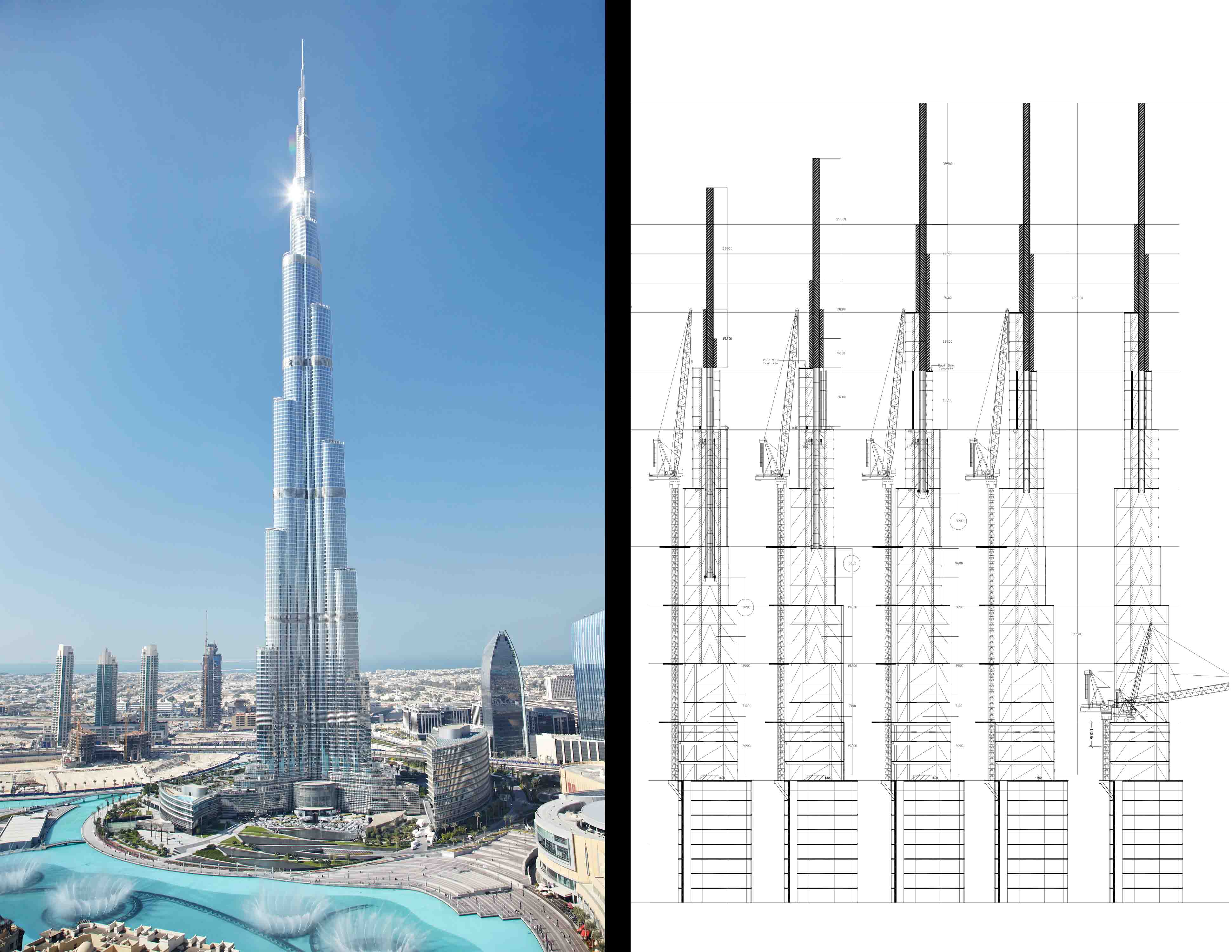 Dubai, UAE 163 fl 828 m / 2,717 ft (completed 2010)
At 828 meters/ 2,717 feet, Burj Khalifa is the tallest building in the world in all three categories of the Council on Tall Buildings and Urban Habitat. Taller than two Empire State Buildings, it surpasses the current second-tallest structure, Shanghai Tower, by nearly 700 feet. Principally residential, the 163-story Burj Khalifa is a mixed-use building that reverses the normal planning logic: the lower stories are occupied by a boutique hotel, above which there are condominium apartments up to the level of the first observation deck on the 124th floor. The top 37 floors, those with the smallest floor plates, are reserved for elite corporate office suites, save for a second observation deck on the 148th floor. Above level 156, the concrete structure tower switches to steel. The final 136 meters of the spire, a steel pipe weighing 350 tons, had to be assembled in sections within the tower, then jacked into place.

See Burj Khalifa in TEN TOPS

Now that you've tasted TEN TALLEST Visit TEN TOPS