The Skyscraper Museum is devoted to the study of high-rise building, past, present, and future. The Museum explores tall buildings as objects of design, products of technology, sites of construction, investments in real estate, and places of work and residence. This site will look better in a browser that supports web standards, but it is accessible to any browser or Internet device.
1 WORLD TRADE CENTER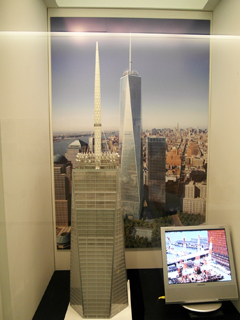 New York City, anticipated completion 2013
541 m/ 1776 ft/ 104 floors
Developer: Port Authority of New York and New Jersey
Architect: Skidmore, Owings & Merrill
Structural Engineer: WSP Cantor Seinuk
G.F.A: 2.6 million sq ft above plaza level
Rising just to the north of the footprints of the Twin Towers, now marked by the waterfalls of the WTC Memorial, the height of 1 WTC is doubly symbolic. The roof level is 1368 feet-the same as the original Tower One-while the tip of the mast reaches 1776 feet, making reference to the year of American Independence, as was envisioned by the Libeskind master plan for the rebuilding.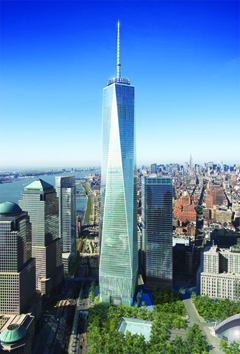 The tapering, faceted form of the tower derives from a geometry of the square of the building's base which is 200 ft/ 61 meters on each side, and the second, smaller square plan of the top floors, rotated 90 degrees. Seen straight on from the north and south, the tower can be read as a flat rectangle, referring to the character of the original towers. From other angles, the tower narrows as it rises, creating a crystalline effect as the different planes of the glass reflect changing light.
The 408-foot tall antenna consists of a 2-story communications platform ring and a mast, a unique design composed of a steel tower that supports the antenna, surrounded by a protective enclosure made of fiberglass, called a radome. This enclosure, which is resistant to wind loading and transparent to radio waves, is the first of its kind. When lit at night the antenna will appear faceted, like the tower itself, and will emit a beacon of light.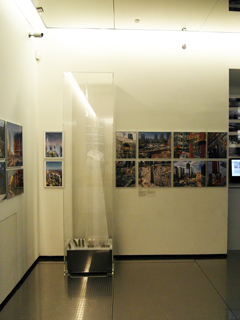 Architectural Laser-cut Acrylic Model
H: 9' with spire W: 26" L: 18"
3/64" = 1' Scale
Model Maker: Radii
This 9-foot model of the first Freedom Tower was created for the press conference that introduced the design to the world on December 19, 2003, and afterwards resided as a marketing model on display in the Silverstein Properties office.
Designed by the architectural firm of Skidmore, Owings, and Merrill with David Childs as the lead partner in charge, the first Freedom Tower conformed in both its height, 1776 feet, and its location at the northwest corner of the site, to the master plan for Ground Zero created by Studio Daniel Libeskind and adopted by the Lower Manhattan Development Corporation (LMDC) in February 2003.
In May 2005, the original Freedom Tower design was abandoned due to security concerns. Ascending to the same height, a new, symmetrical tower will rise over a footprint 200 feet square.