The Skyscraper Museum is devoted to the study of high-rise building, past, present, and future. The Museum explores tall buildings as objects of design, products of technology, sites of construction, investments in real estate, and places of work and residence. This site will look better in a browser that supports web standards, but it is accessible to any browser or Internet device.
INDIA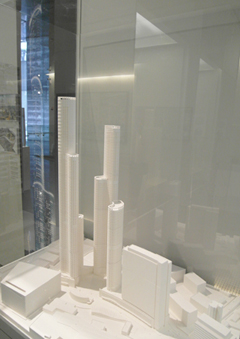 Architectural Site Model (1:500)
Model Makers: Pei Cobb Freed & Partners

WORLD ONE
Mumbai, anticipated completion 2014
442 m/ 1404 ft/ 117 floors
Developer: Lodha Group
Architect: Pei Cobb Freed & Partners
Structural Engineer: Leslie E. Robertson Associates
G.F.A: 1.8 million sq ft
World One is the tallest of three residential towers that will form part of a large complex in Mumbai, also designed to include a hotel, offices, retail, and exhibition spaces. The development is designed with Rockefeller Center-inspired ambitions of inviting public spaces and active street fronts, which integrate the surrounding neighborhoods.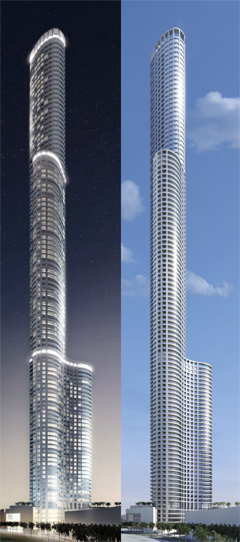 The project's large site was once occupied by textile mills, which, now abandoned, have only recently fallen into the government's hands for redevelopment. An urgent need for housing in Mumbai and publicly beneficial development drove this project forward rather than a desire to achieve supertall status, an aspiration which befell the clients during the design process.
A unique clover-shaped plan with a three-tiered elevation was designed to accommodate the height, residential requirements of the clients, and density of the site. Leslie E. Robertson and Associates initially suggested a structure for this form that was supported by mega-columns at 6 points, which was subsequently broken up to maintain the size of interior spaces.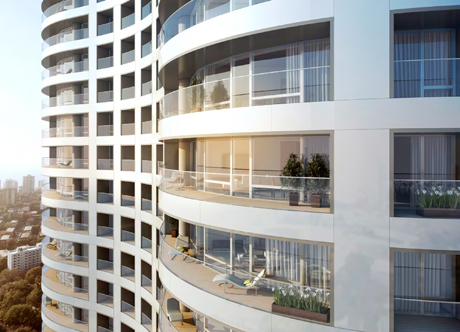 World One stands out amongst supertalls in that its curtain wall is dominantly metal panels rather than a unitized glass surface.