The Skyscraper Museum is devoted to the study of high-rise building, past, present, and future. The Museum explores tall buildings as objects of design, products of technology, sites of construction, investments in real estate, and places of work and residence. This site will look better in a browser that supports web standards, but it is accessible to any browser or Internet device.
WUHAN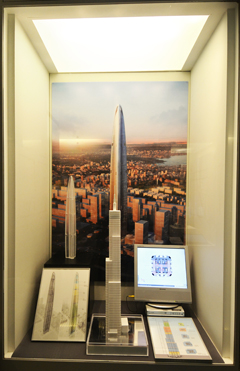 WUHAN GREENLAND CENTER
Anticipated completion 2016
606 m/ 1988 ft/ 119 floors
Developer: Greenland Group
Architect: Adrian Smith + Gordon Gill Architecture | Structural Engineer: Thorton Tomasetti
G.F.A: 3.3 million sq ft
Acrylic Architectural Model (1:1000)
A project of the Shanghai-based developer Greenland Group, the 606 meter, 119-story Wuhan Greenland Center will combine offices, luxury apartments and condominiums, a five-star hotel, and a private penthouse club.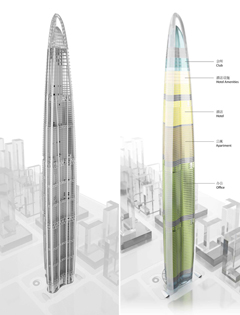 The elongated, tapered tower has a tripod-shaped base with three ribs edged with smooth, curved glass that rise the full height and meet at the top to create an arched dome. Vents at the base of building and at regular intervals above reduce wind loads and vortex action that build up around supertall towers. The overall effect is a sleek, streamlined form with efficient aerodynamic performance. The composite structural system by Thornton Tomasetti combines a concrete core with steel framing.
The highly textured curtain wall features apertures to assist in venting wind pressure and will also house window-washing systems and air intake and exhaust systems on mechanical floors. Dubbed an "ecotower," the project employs many internal features to reduce energy and water use.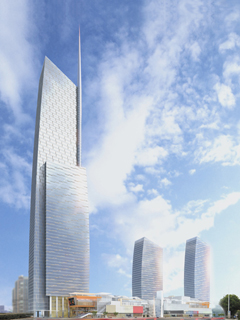 WUHAN RIVERVIEW PLAZA
Wuhan, China, anticipated completion 2014
460 m/1509 ft/ 65 floors
Developer: Shui On Land and Redevco Asia
Architect: Pelli Clarke Pelli (Designer: Larry Ng)
G.F.A: 1.2 million sq ft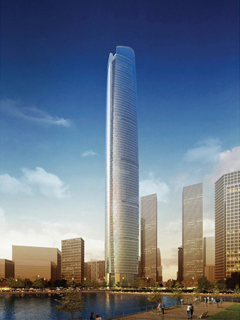 WUHAN CENTER
Wuhan, China, anticipated completion 2015
438 m/ 1437 ft/ 88 floors
Developer: Wuhan CBD Investment Development Company
Architect: ECADI
Structural Engineer: ECADI (Thornton Tomasetti consulting engineers)
G.F.A: 4 million sq ft