The Skyscraper Museum is devoted to the study of high-rise building, past, present, and future. The Museum explores tall buildings as objects of design, products of technology, sites of construction, investments in real estate, and places of work and residence. This site will look better in a browser that supports web standards, but it is accessible to any browser or Internet device.
World Trade Center Construction
JOHN BARTELSTONE - A Decade of Recovery and Rebuilding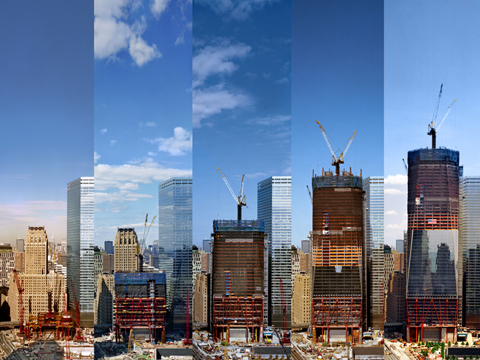 John Bartelstone is a New-York based architectural photographer. His monograph The Brooklyn Navy Yard views the Yard as a time capsule of industrial New York.
Artist's Statement:
The Trade Center and I go way back. The first images I took of it were in the form of 16 mm movie footage that I shot as the towers were rising in 1969 (I was thirteen.) Throughout the 70's I took awful pictures of them and made them even worse in my home darkroom. I worked in the towers as a Port Authority architect from 1985 through 1995 and then visited frequently as a photographic consultant. One badly timed visit on September 11, 2001 sealed the relationship, and I've been taking pictures on the site for the past nine years. Many of the images were taken for the Port Authority Engineering Department, the World Trade Center Outreach program, and the Memorial Museum. But there are also quite a few that I took on self-assigned trips in which I documented elements that seemed either important or photographically interesting. I will continue to chronicle the site and take sequential images of Tower One until it is finished.
1. World Trade Center, Port Authority Annual Report. (2000)
2. Original Hudson Terminal tunnels built in 1908. (2003)
3. Temporary PATH Station nearing completion. (2003)
4. West Bathtub with Temporary PATH Station and excavation for original cornerstone of new Tower 1 before relocation. (2004)
5. East Bathtub, foundations for Tower 2, new PATH concourse and Tower 3. No. 1 train Subway tunnel is in the distance. (2011)
6. Overall view of the entire site showing progress of the Memorial and Museum. Newly excavated East Bathtub is in the foreground. (2009)
7. Tower 1 rising from the memorial Plaza. (2010)
8. Vertical aerial showing column locations of the original Towers 1 and 2. The column stubs were exposed expressly for this photograph. (2004)
9. Original Hudson and Manhattan Terminal foundation near the end of demolition. (2009)
10. Construction workers pour concrete at base of Tower 1. (2009)
11. Epoxy-covered Rebar for concrete deck and tree wells of Memorial Plaza. (2009)
12. A giant column for the base of Tower 1. (2009)
13. Inner basin of the north waterfall (2009)
14. Grinding a weld in Tower 1 (2009)
15. Original H&M tunnel leading to old Hudson Terminal. Trains used this tunnel until the PATH Station was ready for use in 1971. The tunnel was later used for truck access to the loading docks that replaced the train platforms in the old terminal. The Terminal's robust 6-foot thick shell was reused, and the West Bathtub's slurry wall was built around the tube. (2003)
16. Overall view looking west showing the exposed IRT subway tunnel, which was entirely rebuilt by 2002. The replacement tunnel was not self-supporting and required extensive underpinning to integrate it into the new basement and transportation plans. (2009)
17. Three of the 24 massive columns supporting the perimeter of Tower 1, each weighing 70 tons. Goldman Sachs Building is beyond. (2009)
18. Reinforcing bar for the core of Tower 1. (2009)
19. Blasting mat for excavation near foundation of Building 3. (2009)
20. Slurry wall along West Street. (2009)
21. View from the new W Hotel on Albany Street showing progress of Memorial and tower construction. Tower 4 is on the right. Water can be seen filling the North fountain. (2011)
22. Huge column being placed in position for bolting, prior to welding. (2009)