The Skyscraper Museum is devoted to the study of high-rise building, past, present, and future. The Museum explores tall buildings as objects of design, products of technology, sites of construction, investments in real estate, and places of work and residence. This site will look better in a browser that supports web standards, but it is accessible to any browser or Internet device.
Burj Khalifa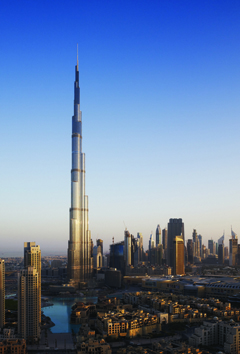 Dubai, United Arab Emirates, completed 2010
828 m/ 2717 ft/ 160 floors
Developer: Emaar Properties
Architect: Skidmore, Owings & Merrill (SOM)
Structural Engineer: SOM | Hyder Consulting
G.F.A.: 3.0 million sq ft
At 828 meters/ 2,717 feet, the 160-story Burj Khalifa is nearly 1,000 feet taller than Taipei 101. Inaugurated in January 2010, the 160-story tower is the centerpiece of the 500-acre Downtown Burj Dubai commercial and residential complex. Principally residential, the tower includes a boutique hotel on its lower floors and apartments above, a restaurant and tourist observation deck, and corporate suites on the top 37 stories.
The Burj Khalifa is constructed of concrete, as are most 21st-century supertalls. William F. Baker, the building's structural engineer, wrote of the contrast between 20th- and 21- century towers: "If skyscraper construction had stopped in 1975, one would say that the tallest skyscrapers are made of steel; in the United States; and are office buildings. Today, one would say they are composite, or all concrete; in Asia or the Middle East; and likely to be residential."