The Skyscraper Museum is devoted to the study of high-rise building, past, present, and future. The Museum explores tall buildings as objects of design, products of technology, sites of construction, investments in real estate, and places of work and residence. This site will look better in a browser that supports web standards, but it is accessible to any browser or Internet device.
JIN MAO
Shanghai, China, completed 1999
421m/ 1381ft/ 88 floors
Developer: China Jin Mao Group Co., Ltd.
Architect: Skidmore, Owings & Merrill (SOM)
Structural Engineer: SOM
G.F.A: 3.1 million sq ft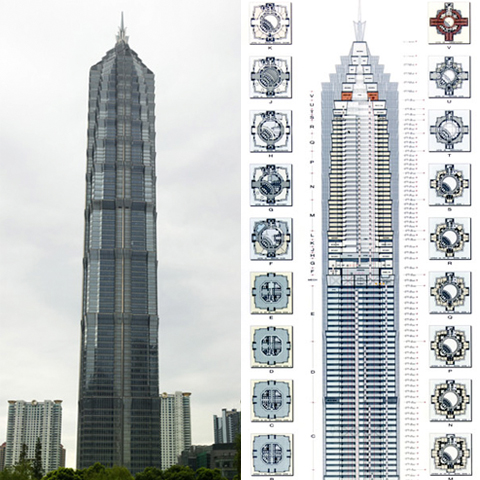 When completed in 1999, Jin Mao Tower was the tallest building in China and a symbol of Shanghai's ascendancy as the "head of the dragon," as proclaimed by the Communist leader and reformer Deng Xiaoping. At 1380 feet (421m), the tower is 130 feet taller than the Empire State Building. Its 88 stories reflect the symbolic "lucky eights" that signify prosperity. Built around an octagonal concrete core surrounded by eight main super-frame columns and eight exterior columns, the pagoda-like form rises in mathematical increments of eight. These literal references to Chinese culture today seem to mark Jin Mao as a "first generation" of skyscraper design in China, in contrast to the minimalist, international-style Shanghai World Financial Center.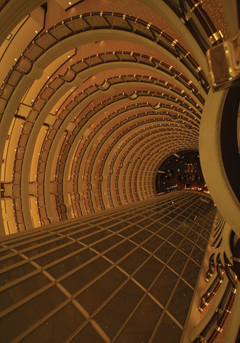 In its mixed-use program and structural engineering, Jin Mao was a remarkable harbinger of the new Asian supertall tower. Two of the lobby entrances serve the offices on the lower floors, while a third serves the Shanghai Grand Hyatt hotel that occupies floors 53 through 87. In this upper zone, a spectacular circular atrium space extends more than thirty stories to the 87th floor, as shown in the photograph in this case. The ring of hotel rooms are accessed by a corridor that allows guests to peer into the vertiginous space. Jin Mao also has an observation deck, the Skywalk, on the 88th floor with views of the city below.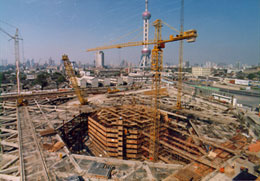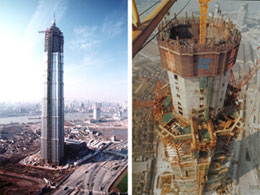 Mao construction photographs, 1994-1998
Courtesy of Skidmore, Owings, & Merrill, LLP
These photographs show various stages in the construction of Jin Mao when Pudong was still largely undeveloped.
The octagonal core rises from the 4-meter thick concrete pile mat which transfers the tower loads to more than 1,000 bearing piles on stiff sand 84 meters below grade. Around the core, framing for the podium structure is underway. A 30-meter deep slurry wall surrounds the site to keep the underground construction dry.
As the tower rises, construction is tightly sequenced. Perimeter columns and floor erection chase the core, lagging by approximately ten floors to allow the concrete to cure and provide space for workers; soon after, facade installation and interior work commence.