The Skyscraper Museum is devoted to the study of high-rise building, past, present, and future. The Museum explores tall buildings as objects of design, products of technology, sites of construction, investments in real estate, and places of work and residence. This site will look better in a browser that supports web standards, but it is accessible to any browser or Internet device.
CHONGQING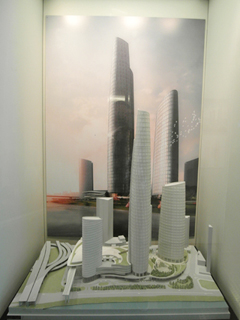 Architectural Model (1:500)
H: 40 in; W: 42 in; L: 26 in
Model Makers: Kohn Pedersen Fox PC
Chongqing, China, anticipated completion 2016
468 m/ 1535 ft/ 98 floors
Developer: Shui On Development Limited
Architect: Kohn Pedersen Fox Associates PC
Structural Engineer: Arup
G.F.A: 2.8 million sq ft
A centerpiece of the Tian Di Master Plan, the Chongqing International Trade and Commerce Center (ITCC) is a mixed complex including office, residential, retail and entertainment spaces. The swelling curve of the towers is inspired by the sailing ships that once traversed the waters of the surrounding Yangtze and Jialing Rivers.
The 98-story office tower is flanked by two adjacent buildings- a low-service apartment block and a mid-rise single-use office building. A 4-story retail podium includes atria and retail arcades that pass through to an elevated outdoor promenade with restaurants, cafes, and river views. A public plaza situated at the center of the site provides a panoramic view of the Jialing River and gathering place.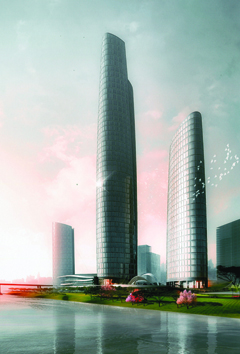 The curtain wall design is a key feature of the architecture. Constructed of repeating 9-meter modules with repetitive patterns of vertically-linked double-story units, the framing emphasizes the double-curved form of the tower and suggests the tension of sails in the wind. The glazing will be of high performance IGUs, with a mildly reflective coating (roughly 20% reflectivity) on the second surface of a lightly tinted glass.