The Skyscraper Museum is devoted to the study of high-rise building, past, present, and future. The Museum explores tall buildings as objects of design, products of technology, sites of construction, investments in real estate, and places of work and residence. This site will look better in a browser that supports web standards, but it is accessible to any browser or Internet device.
LOWER MANHATTAN CONTEXT MODEL WITH FUTURE WTC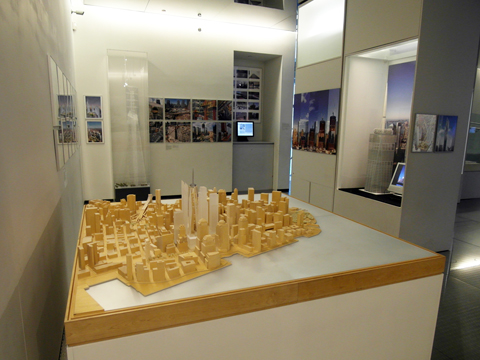 Model maker: Skidmore, Owings Merrill LLP (SOM)
Dimensions: 6'-0'' x 6'-0" at 1"= 100' scale; bass wood and acrylic
This wooden model crafted by the architectural firm Skidmore, Owings, & Merrill provides a glimpse of the lower Manhattan skyline upon the completion of the new World Trade Center. Depicted as crystalline masses, the new WTC will be composed of five new office towers. The tallest of which, 1 World Trade Center is projected to rise 1,776 feet to the tip of its faceted mast.