The Skyscraper Museum is devoted to the study of high-rise building, past, present, and future. The Museum explores tall buildings as objects of design, products of technology, sites of construction, investments in real estate, and places of work and residence. This site will look better in a browser that supports web standards, but it is accessible to any browser or Internet device.
SHANGHAI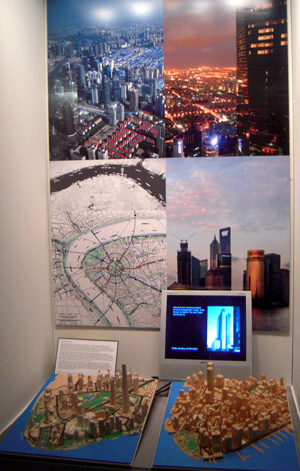 This remarkable wood model of Lujiazui was created in 2009 by Michael Chesko as a companion to his lower Manhattan models. Each building is individually carved of balsa wood, with some elements of bass wood, at a scale: 1:3200 or 3/8 inch = 100 ft. Permanent loan from Michael Chesko, model maker
Shanghai today is a vast metropolis of 18 million residents--the largest city in the world's most populous nation. In just three decades, its population has nearly doubled, and the city has been physically transformed by the twin emblems of modernity--high-rises and highways. Formerly a horizontal expanse of dense and sprawling lilong neighborhoods, Shanghai has grown vertically. Nearly 400 high- rises of twenty stories or more were built in the historic core, Puxi, since 1990, and colossal elevated roads fly over old neighborhoods.
In the new business district of Pudong on the east side of the Huangpu River, a master plan dictates taller towers rising from open green space, culminating in a pair--soon to be a trio--of the world's ten tallest skyscrapers. Pudong was principally agricultural land and industrial waterfront until 1990, when the government's plan to expand the city created an ambitious master plan for greater Pudong and focused special development attention on a new business core directly across the river from the Bund. That section, called Lujiazui, is almost exactly the same shape and size as the financial district of lower Manhattan.
The master plan for Lujiazui envisioned landmark buildings that would establish a skyline identity for Shanghai. The first, completed in 1995, was the Oriental Pearl Tower, an Eiffel Tower-like tourist attraction. The trio of supertall skyscrapers -- Jin Mao, Shanghai World Financial Center, and Shanghai Tower, now under construction -- were designed through a competition process and are all the work of American architects and engineers. The dozens of other high-rises in Lujiazui, both commercial and residential, have been designed by a wide range of international and Chinese firms.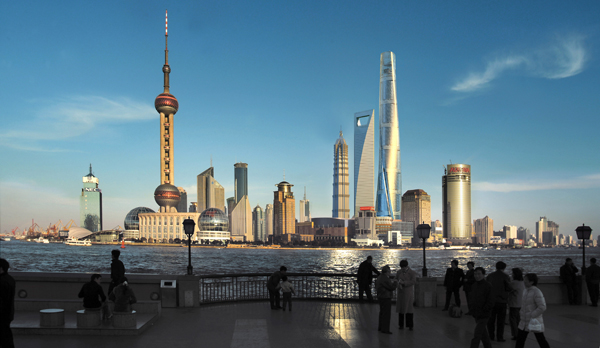 Pudong skyline, photograph by Gensler