The Skyscraper Museum is devoted to the study of high-rise building, past, present, and future. The Museum explores tall buildings as objects of design, products of technology, sites of construction, investments in real estate, and places of work and residence. This site will look better in a browser that supports web standards, but it is accessible to any browser or Internet device.
HONG KONG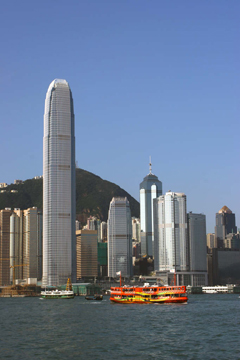 TWO INTERNATIONAL FINANCE CENTRE
Architects: Pelli Clarke Pelli Architects
Design Principal: Cesar Pelli
Design Architect: Rocco Design Ltd.
Floors: 88
Height: 407 meters/ 1,335 feet | 416 meters / 1,364 feet with spire
GFA: 185,805 meters2 / 1,999,988 feet2
Two International Finance Centre (2IFC) was the tallest building in Hong Kong on its completion in 2003. Today it is surpassed by the 118-story ICC on the Kowloon side of the harbor. Designed by Cesar Pelli of Pelli Clarke Pelli Architects, 2IFC is the principal office tower in a major mixed-use commercial complex that serves as the new inter-modal transit center of Hong Kong's CBD, called Central. Built on landfill at the harbor's edge as part of a government master plan, the multi-level development comprises the MTR subway station, the terminal for the airport express trains, a bus station, as well as offering connections to the the cross-harbor ferries. Multiple stories of major retail shopping form an underground mall and raised podium with gardens and public space on the roof. From this base rise the two towers; the 55-story 1FC contains a Four Seasons Hotel, and the 88-story 2IFC.