The Skyscraper Museum is devoted to the study of high-rise building, past, present, and future. The Museum explores tall buildings as objects of design, products of technology, sites of construction, investments in real estate, and places of work and residence. This site will look better in a browser that supports web standards, but it is accessible to any browser or Internet device.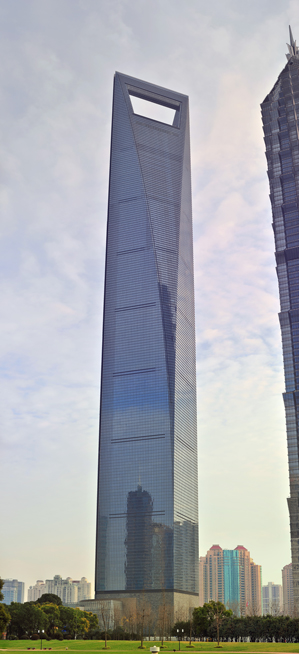 THE SHANGHAI WORLD
FINANCIAL CENTER
Mori Building Compnay, Developer
Kohn Pedersen Fox: Architects
Leslie E. Robertson Associates: Structural Engineers
1614 ft | 492 m | 101 floors
G.F.A: 4,107,508 sq ft | 381,600 sq m
The first design for the Shanghai World Financial Center dates back to 1993, when the developer, the Mori Building Company, led by the Japanese businessman Minoru Mori, and the architectural firm KPF won the government competition to build on one of the three key sites in Lujiazui. After the foundations were laid in 1997, the project was put on hold due to the Asian financial crisis, and when plans resumed after 9/11/2001, there were several changes in the design and structure, including an increased height of 32 meters and a new shape for the top.
Completed in 2008, the tower soars 101 stories, 492 meters (1614 ft), and is currently the second tallest building in the world, until the completion of Burj Dubai. The basic form is a square prism, 58 meters on a side, intersected by two sweeping arcs to form a vertically- evolving six-sided shape in plan, tapering into a single diagonal line at the apex. The building is mixed-used, with urban retail spaces at the base, a 174-room hotel at the top, and 62 office floors. Above the hotel are three observatory levels, at 94, 97, and 100.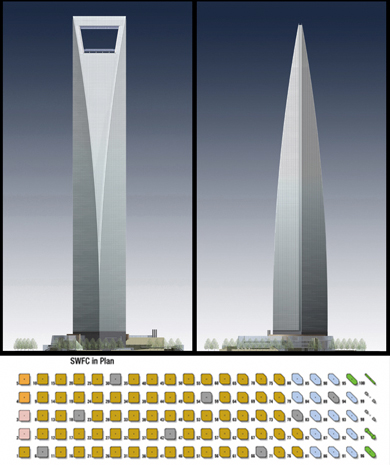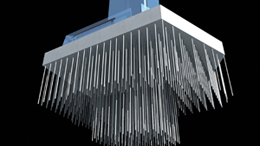 The drawing above shows the foundation system.
Kohn Pederson Fox Associates, PC
Click herefor a program with William Pedersen on the Shanghai World Financial Center