The Skyscraper Museum is devoted to the study of high-rise building, past, present, and future. The Museum explores tall buildings as objects of design, products of technology, sites of construction, investments in real estate, and places of work and residence. This site will look better in a browser that supports web standards, but it is accessible to any browser or Internet device.
Dalian Eton Center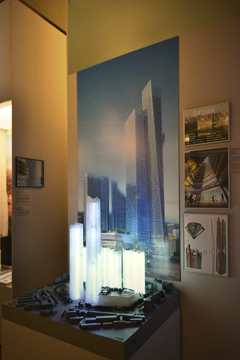 Architectural Acrylic Model (1:600)
L: 3' 1" W: 2' 6" H: 2' 4.5"
Model Maker: NBBJ

Dalian, China, anticipated completion 2013
383 m/ 1257 ft/ 81 floors
Developer: Eton Group
Architect: NBBJ
Structural Engineer: Arup
G.F.A.: 800,000 m2 / 8.6 million sq ft (entire complex)

Located in the fast-growing port city of Dalian, one of the most heavily developed industrial areas of China, the Dalian Eton Center is a 15-acre development in the central business district including high-rise apartment blocks and two mixed-use towers. The complex creates an "urban plateau" with a public park atop a 5-story retail podium similar in size to New York's Union Square Park, reflecting the city's commitment to balance urban and natural surroundings.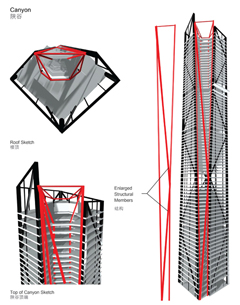 The principal tower combines a mixed program of retail, office, and hotel space across 81 stories, and includes five multi-story "sky gardens." A sixty-story atrium with an exterior glass curtain wall slices through the space, allowing for a light-filled interior and vistas of the surrounding city, harbor, and countryside. The composite structural system by Arup employs a reinforced-concrete core, mega-columns at the corners, steel perimeter columns, and transfer trusses every 15 floors, allowing for an efficient column-free interior floor plate of 11 meters.