The Skyscraper Museum is devoted to the study of high-rise building, past, present, and future. The Museum explores tall buildings as objects of design, products of technology, sites of construction, investments in real estate, and places of work and residence. This site will look better in a browser that supports web standards, but it is accessible to any browser or Internet device.
SEOUL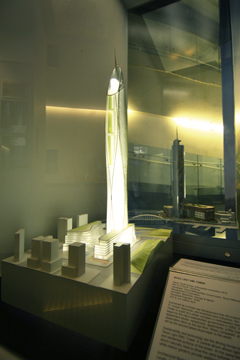 Architectural Model (1:1000)
H: 2'5" L: 1'6" W: 1'1.5"
Model Maker: SOM
SEOUL LIGHT DMC
Seoul, South Korea, anticipated completion 2015
640 m/ 2100 ft/ 133 floors
Developer: Seoul Metropolitan Government, Seoul Metropolitan
Development Corporation
Architect: SOM
Structural Engineer: SOM
G.F.A: 3.4 million sq ft
Conceived as a mixed-use development that will expand Korea's advanced IT, human resources, and entertainment industries, the Seoul Light DMC Tower is a part of a urban complex in northwestern Seoul, Digital Media City, begun by the city's metropolitan government in 2002. The tower will include department stores, restaurants, apartments, a Ritz-Carlton hotel, and an observation deck on the top floor. When completed, at 640 meters, the tower will be the second tallest skyscraper in the world.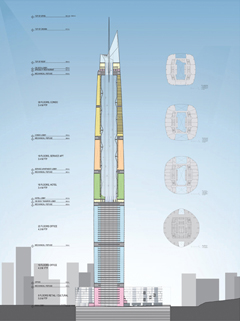 Sustainability and technology are the driving forces behind the design of Seoul Light DMC Tower. A central atrium allows light to illuminate the hotel and residential portions of the tower. At the same time, air that enters the atrium naturally rises to drive the wind turbines at the top of the building, while interior gardens provide additional air circulation and filtration.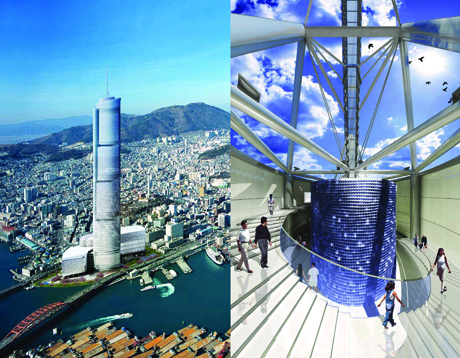 BUSAN LOTTE WORLD TOWER
Busan, South Korea, anticipated completion 2016
510 m/ 1674 ft/ 130 floors
Developer: Lotte Group
Architect: Skidmore, Owings & Merrill
Structural Engineer: SOM
G.F.A: 2.5 million sq ft
Located in the popular resort city of Busan, the Lotte Tower will become a gateway to the east. Reflecting its location near the largest port in South Korea, the tower is meant to evoke a standing ship. At 510 meters, the tower tops a mixed-use complex, including a parking deck, shopping and entertainment, offices, condominiums, and a hotel that are central to the city's new economic development zone.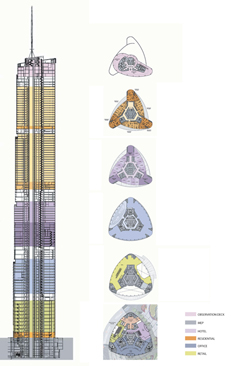 Setbacks at the transitions between functions are arranged in a clockwise pattern, and at the separate functional zones, the loads of the perimeter columns are transferred to six mega-columns via concrete outrigger walls, allowing each tier of the tower to have its own independent column layout. Concern for environmental sustainability is expressed in the building's natural ventilation, thermal regulation, double skin, louvers, and sea-water cooling system. The tower is integrated into the cityscape, with shops, raised parks, and plazas facing the waterfront.
Architectural Model (1:1000)
Length: 2' Width: 1'8" Height: 2'1"
Model Maker: SOM