The Skyscraper Museum is devoted to the study of high-rise building, past, present, and future. The Museum explores tall buildings as objects of design, products of technology, sites of construction, investments in real estate, and places of work and residence. This site will look better in a browser that supports web standards, but it is accessible to any browser or Internet device.
HAEUNDAE RESORT COMPLEX LANDMARK TOWER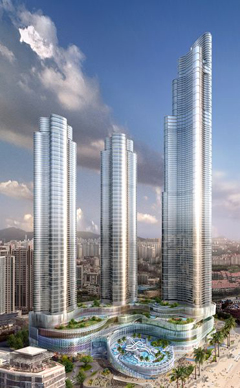 Busan, South Korea
486 m/ 1593 ft/ 108 floors
Developer: Triple Square AMC
Architect: Kohn Pedersen Fox Associates PC | Samoo Architects & Engineers
Structural Engineer: Arup
The Haeundae Resort Project will be located in Busan at the eastern end of a sweeping arc of Haeundae Beach, famous for its white sand beaches, green pine trees, and hot springs. This massive, 8 million sq. ft. complex includes three high-rises: a 108-story mixed-use tower and two 87-story residential towers. The three create a composition of rippled curves inspired by the fluid movement of water, the geological formations found in the Busan vicinity, and the organic forms of sea creatures. The curved design also allows the skyscrapers to capture the most attractive beach and ocean views for all apartments and hotel rooms.
The Landmark Tower will rise 108 stories to a height of 490 m/ 1,600 ft and include a 6-star hotel, condominiums, luxury apartments, high-end retail and restaurants, cinemas and on-site performance arts venues, spas, and indoor and outdoor pools. The interior architectural design and programmatic planning follow the principle of integrated space, interpenetrating form, and continuity of flow. Restaurants look out into water canyons, retail spaces wind around hotel lounges, and entertainment lobbies open onto sun decks and roof terraces.