The Skyscraper Museum is devoted to the study of high-rise building, past, present, and future. The Museum explores tall buildings as objects of design, products of technology, sites of construction, investments in real estate, and places of work and residence. This site will look better in a browser that supports web standards, but it is accessible to any browser or Internet device.
NANJING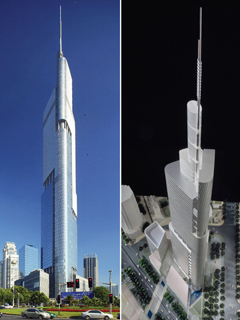 NANJING GREENLAND FINANCIAL CENTER
Nanjing, China, 2010
450 m/ 1480 ft/ 89 floors
Developer: Greenland Group
Architect: Skidmore, Owings & Merrill
Structural Engineer: SOM
G.F.A: 2.8 million sq ft
The unique triangular shape of the Nanjing Greenland Financial Center was designed to take full advantage of the site's shape, size, and orientation. The building's form takes inspiration from the local landscape: the tower is oriented to maximize views of the nearby mountains, lake and historic Nanjing buildings, while the two forms that encircle the central core of the tower mimic "dancing dragons," a common motif in Chinese iconography. These "dragons" are composed of angled panes of glass staggered for a scale-like appearance. The seams that run between the two forms reference the Yangtze River, which flows through the city.
The Center houses office space, a 500-room Intercontinental hotel, retail space and below-grade parking. Landscaped, clear-glass atria are located throughout the building, and the top of the tower houses restaurants and an observatory. The spire and tower atria are lit at night, making the Nanjing Greenland Financial Center an icon on the city's skyline.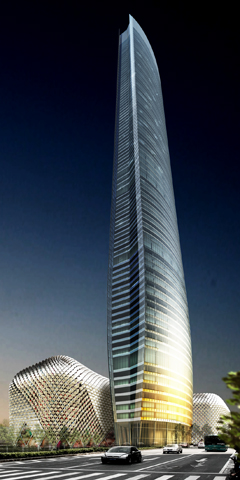 NANJING TOWER
Nanjing, China, anticipated completion 2013
400 m/ 1312 ft/ 90 floors
Developer: Suning Real Estate Development Co.
Architect: Murphy/Jahn
Structural Engineer: Werner Sobek
G.F.A: 3.1 million sq ft
The winning design in a recent international competition, this 400 m tall tower will anchor the skyline of the rapidly developing city of Nanjing. The site includes both the gradually tapering tower and the eight-story sculptural retail podium that wraps around its base and provides a transitional space between the tower and the urban city. Like many other supertalls, the tower will be mixed-use, providing space for offices, hotel, condominiums and a club.
The structural system of the tower is composed of a central concrete core supported through external columns. Clad in a glass curtain wall, with fins of glass extending past the corners of the ovular building, the tower offers a dramatic sight, particularly when illuminated at night.